HAMMERHEAD – Oblivion (2018)
Taking a look at the cover art of HAMMERHEAD's new album "Oblivion" makes you think of a heavy metal CD; the band's name, the title, etc. But if you inspect deeply, there's a beach and you notice this 4-piece is named after the shark of the same name.
Yeah, Hammerhead hails from Brisbane, Australia, and their music is inspired by summertime feel good party hard rock inspired in the '80s.
Reading their bio, I can see why Hammerhead were chosen as support band for Motley Crue, Alice Cooper, The Screaming Jets, etc and currently are touring Down Under alongside Roadkill, another band playing this kind of Eighties influenced hard rock.
Perhaps of being from Australia, opener 'Pour out Ya Heart' brings to my mind country fellas Roxus, next title track 'Oblivion' has a more Americanized sound not far from Ugly Kid Joe first album.
Midtempo 'Angie' is not your typical melodic hard rock song, quite unique, where the style or comparison could be Saigon Kick.
'Dancin' Alone' is a fun and indeed danceable tune, add a bit of Sunset Strip swagger to 'Bad', and a pinch of Bang Tango on 'Don't Believe in Love', one of the strongest tunes on the album.
Some synths appear on mid-paced 'Lead Me to Shelter' with an atmosphere similar to Jonn Sykes solo works (another fav cut of mine), while 'Love Runs Out' delivers more fun sunshine melodic hard.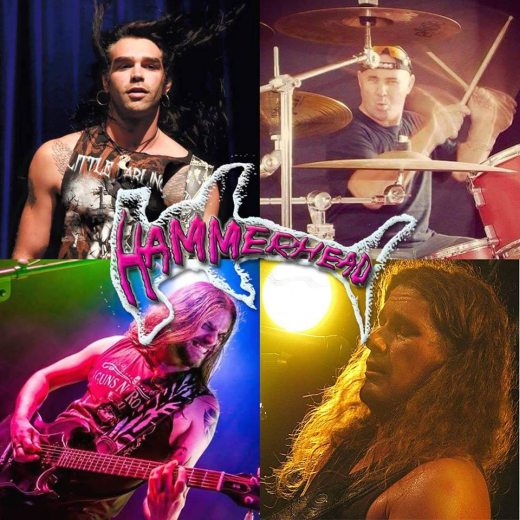 Having been together for almost fifteen years and with 4 albums under their belt, Hammerhead is an oiled band playing the music they love, without a record company pressure.
They manage everything, this giving freedom to elaborate some songs. Most the material here is party melodic hard rock to enjoy with a cold beer at hand, however on a couple of tracks they explore different, welcomed sounds.
Entertaining and strong stuff.
01 – Pour out Ya Heart
02 – Oblivion
03 – Angie
04 – Animal4
05 – Dancin' Alone
06 – Bad
07 – Don't Believe in Love
08 – Feel Alive Again
09 – Lead Me to Shelter
10 – Mercy
11 – Love Runs Out
12 – When I'm Gone
Nick Reeve: Vox, guitar
Adrian Scott: Lead guitar
Danny Swain: Bass, vox
Craig McKenna: Drums
BUY IT !
store.cdbaby.com/cd/hammerhead6
.