GREAT WHITE – …Twice Shy [SHM-CD Remastered] (2015)
Another essential GREAT WHITE album reissued on SHM-CD / remastered by Universal Japan is the great "…Twice Shy".
The third time's supposed to be the charm, and that was definitely the case for Great White, whose commercial breakthrough with 87's 'Once Bitten' came after the band brushed the lower rungs of the charts with their first two albums. And as it turned out, that was just a warm-up act.
Things really got going for Great White with the release of their fourth LP "…Twice Shy" on April 12, 1989. An eventual double-platinum / Top 10 hit, it blanketed Rock radio and gave the group its first Top 40 singles with 'The Angel Song' (No. 30) and a cover of Ian Hunter's 'Once Bitten, Twice Shy' (No. 5), capping more than a decade of club gigs and financial frustration with a generous helping of MTV-anointed success.
"Maybe it's one of those stories where the best things in life are worth waiting for," mused singer Jack Russell during a 1987 interview. "I think people are just starting to catch up on what we're trying to do, which is different music compared to what's on the radio and what other people are playing…. We said, 'Let's write songs we like, that we know are good songs. And if they don't sell, at least we go broke with some integrity, at least if the shark dies he's gonna die with his f*cking middle finger in the air. He's going to die with his teeth in, not some gummy old shark!"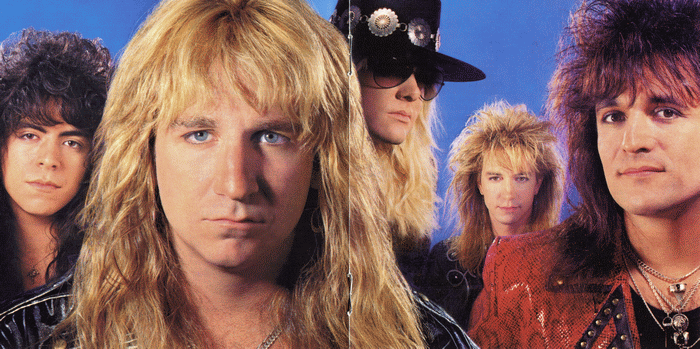 Acknowledging that covering "Once Bitten, Twice Shy" was an 'obvious' choice as a follow-up to 'Once Bitten'. Guitarist Mark Kendall later recalled, "We thought the song was good, but we didn't think that it would really take off like it did." As he went on to explain, the group also had a little personal history with Hunter.
"Way before we ever decided to cover the song, he actually rode on our tour bus with us to one of our shows and was just hanging out. I believe it was around 1979 in New York," continued Kendall. "Then we ran into him again in 1984. We were touring with Judas Priest, and we needed a drum riser. Our sound guy knew Ian and said that he had a drum riser at his house. So, we went over and picked it up. What's funny is that neither of these meetings had anything to do with us covering that song."
However it happened, that cover gave Great White the big hit it had been looking for, and although the band's good-time vibe fit right in with the slickly produced rock then holding sway at Top 40, their sound always had more of a blues component than some of their flashier contemporaries.
Other cuts are really impressive replicating the classic arena rock sound such as "House of Broken Love", "Mista Bone", "Hiway Nights" (the quintessential slow burner), or the catchy "Move It"
On the terrific power ballad "The Angel Song" lead singer Jack Russell actually does sound like Robert Plant), while "She Only" is a little gem.
The Japanese edition of "…Twice Shy" on SHM-CD not only sounds superb (great remaster), but also includes the bonus tracks "Bitches and Other Women" and the fun "Wasted Rock Ranger", plus "Slow Ride", originally a single b-side.
This is a great opportunity to get this classic album in HD quality for a regular price. Order now, it's a limited edition and will be out of print soon.
Highly Recommended
Universal Japan ~ UICY-25527
【SHM-CD仕様/ジュエルケース】
01 – Move It
02 – Heart The Hunter
03 – Hiway Nights
04 – The Angel Song
05 – Bitches And Other Women [bonus track]
06 – Mista Bone
07 – Baby's On Fire
08 – House Of Broken Love
09 – She Only
10 – Once Bitten Twice Shy
11 – Wasted Rock Ranger [bonus track]
12 – Slow Ride [bonus track]
Jack Russell – lead and backing vocals
Mark Kendall – lead guitar, backing vocals
Michael Lardie – guitar, keyboards, backing vocals
Tony Montana – bass
Audie Desbrow – drums
BUY IT !
www.cdjapan.co.jp/product/UICY-25527
.