GREAT WHITE – Once Bitten [SHM-CD Remastered] Out Of Print
Already out of print and very hard to find, this Japanese remastered version of GREAT WHITE's "Once Bitten" pressed on high quality SHM-CD has been requested by many.
"Once Bitten" was Great White's second studio album fof Capitol Records, and it was the vehicle for the band's commercial breakthrough, certified Platinum a few years later after the band's next album huge success.
Keyboard player Michael Lardie had played with the band on their previous album, and Great White officially became a quintet when the versatile Lardie formally joined vocalist Jack Russell, guitarist Mark Kendall, bass player Lorne Black, and drummer Audie Desbrow for the recording of "Once Bitten".
Great White found on this album what would be their signature sound; traditional hard rock still with a Californian sound, but strongly infused with classic bluesy melodies.
Similar to most of their studio recordings that would follow, "Once Bitten" is a mix of rockers and powerful ballads. Guitarist Mark Kendall really comes into his own on this album, combining fiery emotion, bluesy phrasing, incendiary leads, ballsy swagger and some occasional flash.
It's all really good stuff. "Rock Me" became a hit single and is one of Great White's best known songs in history.
"Lady Red Light" rocks with vengeance, you have the catchy "Gonna Getcha", the uptempo anthem "All Over Now", and the classy power ballad "Save Your Love".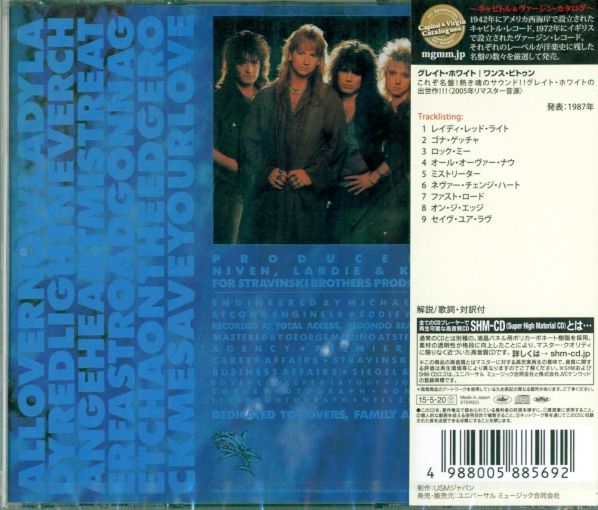 This Japanese edition on SHM-CD of Great White's "Once Bitten" is just great, really well balanced and with the proper dynamic range.
This is one of that kind of albums that put an instant smile on your face, and one that you need in your collection.
Highly Recommended
Universal Japan ~ UICY-25526
【SHM-CD 仕様/ジュエルケース】
01 – Lady Red Light
02 – Gonna Getcha
03 – Rock Me
04 – All Over Now
05 – Mistreater
06 – Never Change Heart
07 – Fast Road
08 – On The Edge
09 – Save Your Love
Jack Russell – lead and backing vocals
Mark Kendall – lead guitar, backing vocals
Michael Lardie – guitar, keyboards, backing vocals
Lorne Black – bass
Audie Desbrow – drums
Out Of Print;
www.cdjapan.co.jp/product/UICY-25526
.