DE-ARROW – De-Arrow [first time on Ltd. CD remastered] (2018) Out Of Print *EXCLUSIVE*
First time available on CD, this release comprises all the 1983 to 1989 recordings (remastered) by Australian AOR pioneers DE-ARROW, a band with ties to legendary AORsters ROXUS.
With a complete 24-page booklet including the full history of the band plus rare unseen photos, this is a must listen to every AOR fan.
While recently released (November 2018) this 500 copies Limited Edition is already out of print.
Almost thirty years after disbanded, DE-ARROW got released a collection of all their awesome recordings that were cut between 1983 to 1989.
In a time of mascara and big hair, DE-ARROW came to the fore armed with the sort of songwritng & musicianship that was widely popular in Europe and America, but not in Australia; AOR / Melodic Rock.
Keyboardist Noel Hart and guitarist Dragan Stanic have gone through the past brightly and assembled a collection of music that represents all that was possible in the decade of excess, but also gives a look at what American rock radio missed out on.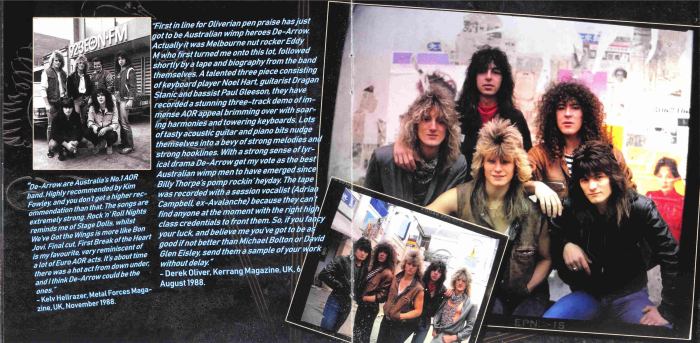 Both musicians are still active nowadays, and after met again some time ago decided to put together all DE-ARROW recordings, completely remastered.
And I'm glad they did it!
"De-Arrow" is pure keyboard-driven 80s AOR plenty of catchy melodies and choruses to die for.
While the band released a promotional tape at the time, all the material here should be considered unreleased. Some of these tracks have never been heard before.
Four of the fourteen tracks here has been recorded by other bands, such as the excellent ROXUS on their debut album 'Night Street', and Melbourne-based AORsters WHITE WIDOW recorded the other two tracks.
JUNO ROXAS, who was the lead singer of ROXUS sings on two of the songs on this DE-ARROW CD.
DE-ARROW were together from 1983 to 1989 so they were pretty much a product of the Eighties both in sound and style, that meaning AOR / Melodic Rock of the era.
You can't go wrong with this album, all very well recorded / produced material considering its unreleased status.
A mandatory listen to all fans of the genre.
Only at 0dayrox
01 – Rock 'N' Roll Nights
02 – We've Got The Wings
03 – First Break Of The Heart
04 – Feelin' Fine
05 – I Got You
06 – All Alone
07 – Love After Midnight
08 – Right Now
09 – Can't Stop
10 – Don't Steal My Heart Away
11 – Feel My Love
12 – Tell Me Tonight
13 – Can't Get You Out Of My Mind
14 – Angel
Lou Yarevski – vocals
Dragan Stanic – guitars
Noel Hart – keyboards
Paul Gleeson – bass
Mick Djokic – drums
Mick Kat – bass
Steve Kara – drums
Adrian Campbell – vocals
Juno Roxas – vocals
SOLD OUT;
vanitymusicgroup.bigcartel.com/product/de-arrow-de-arrow
.