SNAKE BITE WHISKY – This Side Of Hell (2019)
Australian sleazy hard rockers SNAKE BITE WHISKY are releasing their debut full-length studio album "This Side Of Hell", and while recorded in Down Under, it sounds like taped back in 1987 in a L.A.
Snake Bite Whisky was formed in December 2014 and after 2 EP's has quickly established themselves as Australia's number one sleazy band rapidly gaining a large following in the international glam/sleazy scene.
Likened to early Guns N' Roses with a healthy dose of Motley Crue and Motörhead's heaviness, the Snakes are determined to bring the style and attitude of the '80s Sunset Strip scene, kicking and screaming into the present, bringing something fresh to the global hair metal revival.
Snake Bite Whisky already supported major acts and toured Europe & the US, and played at the Cruefest at the Whisky a Go-Go in Hollywood. Indeed, they belong there…
"This Side Of Hell" is pure '80s sleazy with 'y', meaning the American sound of the genre.
While influences abound, these guys have their own, no compromise style. This is full throttled yet melodic in yer face sleazy soaked rock n' roll.
There's plenty of guitar attack on 'Damnation Alley' and the anthemic 'Ain't Dead Yet' (early Skid Row on steroids), a mammoth groove in 'Spin', and a dirty punch on the nasty 'B.A.M.'
More melodic with swirling solos ala Faster Pussycat is 'Last Man Standing', while 'Another Day' brings some calm (not a ballad though).
Mid-paced, 'New Revolution' has some LA Guns in the riffage, then the album end with the proper full sleazy feat of 'She Likes Machines', where I found a little of Alice Cooper in the approach.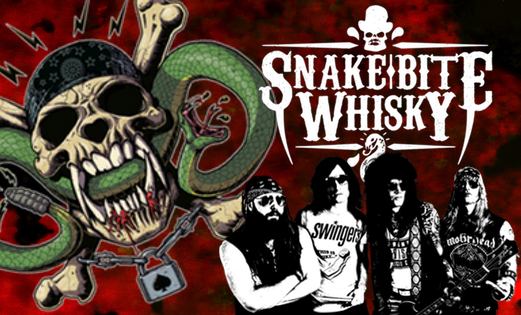 'Uncompromised' is the best word to define Snake Bite Whisky's full-length debut album "This Side Of Hell"; this is pure Americanized sleazy hard rock, from style to attitude.
These Aussie guys don't care trends or 'commercial potential'; they play the music they want and they do it darn well. So if you miss this type of rock n' roll unpolluted by record label executives, grab "This Side Of Hell" now.
ROCKS
01 – Damnation Alley
02 – Down in the Dirt
03 – Ain't Dead Yet
04 – Spin
05 – B.A.M.
06 – Last Man Standing
07 – Drinking for Two
08 – Another Day
09 – New Revolution
10 – She Likes Machines
Jay R – Vocals
David Arens – Guitars
Stacii Blake – Bass
Al "Ace" Bukva – Drums
BUY IT
www.amazon.com/This-Side-Hell-Snake-Whisky/dp/B07KLPTWVW
.