TYGERS OF PAN TANG – Hellbound Spellbound Live 1981 [Japan Edition] (2019) *EXCLUSIVE*
To be released at the end of January world-wide, in Japan just appeared TYGERS OF PAN TANG limited edition new CD titled "Hellbound Spellbound Live 1981 [Japan Edition]", captured at the peak of the Tygers' effervescence.
The show was originally recorded live by renowned Chris Tsangarides at Nottingham Rock City in 1981 and was remastered by Søren Andersen (Glenn Hughes, Mike Tramp) last October at the Medley Studios in Denmark.
Guitarist Robb Weir formed the TYGERS OF PAN TANG back in 1977 when he was joined by Brian Dick, Rocky and Jess Cox. A very successful run followed, which also jumpstarted the careers of some of the band members, including a young John Sykes, who went on to play with THIN LIZZY, and later WHITESNAKE, BLUE MURDER.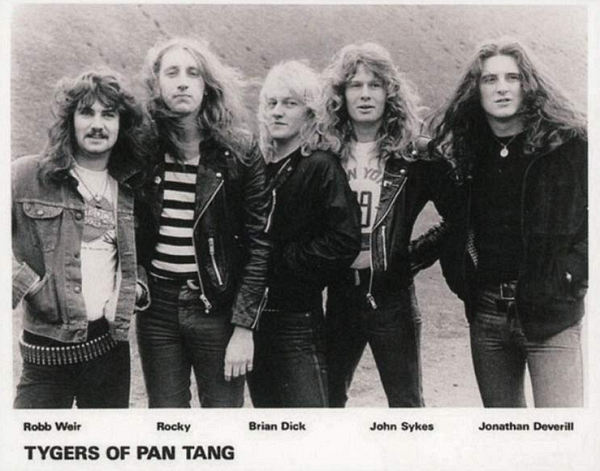 This concert was performed during the 'Spellbound' album tour, so expect all the classics from this stupendous LP, plus the best songs from the early albums.
All the band is on fire, and while vocalist Jon Deverill should have stayed himself on old Tygers songs instead of trying to imitate Jess Cox's (the band's first singer) voice, all songs rock from start to finish.
"Hellbound Spellbound Live 1981 [Japan Edition]" is a great document from the era, essential for TYGERS OF PAN TANG fans and a very recommended listen for all timeless classic rock aficionados out there.
You've seen it first here, at 0dayrox
01 – Take It
02 – Rock and Roll Man
03 – Blackjack
04 – Tyger Bay
05 – Insanity
06 – Euthanasia
07 – Mirror
08 – Wild Catz
09 – Money
10 – Don't Stop By
11 – Gangland
12 – Silver and Gold
13 – Hellbound
14 – Slave to Freedom
15 – All Or Nothing
Jon Deverill – Vocals
Robb Weir – Guitars
John Sykes – Guitars, Backing Vocals
Rocky – Bass
Brian Dick – Drums
BUY IT
www.cdjapan.co.jp/product/GQCS-90681
www.amazon.co.jp/dp/B07L5PGXQQ
.