JORDAN RUDESS (Dream Theater) – Wired For Madness (2019)
Talented JORDAN RUDESS has been the full-time keyboardist with Dream Theater since 1999, as well as releasing his own acclaimed solo works with accompanying solo tours, developing his own range of award-winning keyboard apps, writing instruction books and teaching online keyboard courses.
And now comes his latest solo release, "Wired For Madness", to be released tomorrow
Bursting and flowing forth with all of the drama, technique and melodicism that have become Rudess' musical hallmarks, the album also features the keyboard wizard handling many of the vocals.
It blends old-school prog and piano with a ferocious rock pulse and typically ambitious oeuvre that's as tasteful and classic as it is outrageously expansive.
Renowned guests include Dream Theater bandmates James LaBrie & John Petrucci, terrific drummers Marco Minnemann (The Aristocrats, The Sea Within), Rod Morgenstein (Winger, Dixie Dregs) and Elijah Wood (Shania Twain), guitarists Vinnie Moore (UFO), Guthrie Govan (The Aristocrats, Steven Wilson Band), and renowned Joe Bonamassa.
Yes indeed, "Wired for Madness" also has the blues.
All these musicians not only appear as guests, but also have co-arranged / written the songs they play in.
LaBrie appears in 'Wired for Madness – Part 2', Guthrie Govan add his delicate touch to 'Off the Ground', Bonamassa provides the rockin' feel to 'Just can't Win', and Vinnie Moore a great solo to 'Why I Dream', while Rod Morgenstein (Winger) play on almost all songs.
And guess what; Rudess sings pretty well.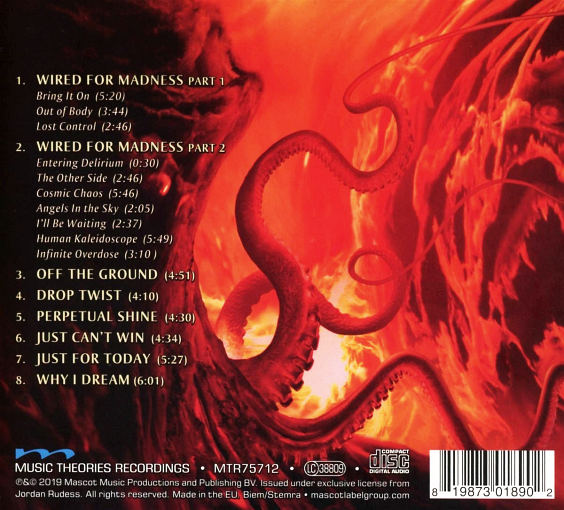 "Wired For Madness" is a Prog feast, yet quite accessible, and very entertaining.
There's a sense of joy on the overall album, and also the production, melodic, rocking at places.
Highly Recommended
1. Wired for Madness – Part 1
2. Wired for Madness – Part 2
3. Off the Ground
4. Drop Twist
5. Perpetual Shine
6. Just Can't Win
7. Just for Today
8. Why I Dream
Jordan Rudess – vocals, keyboards, synths
James LaBrie – vocals
John Petrucci – guitars
Marco Minnemann – drums
Elijah Wood – drums
Rod Morgenstein – drums
Vinnie Moore – guitars
Guthrie Govan – guitars
Joe Bonamassa – guitars
PRE ORDER:
www.amazon.de/Wired-Madness-Jordan-Rudess/dp/B07NDS3CHR
.