JORDAN RUDESS (Dream Theater) – Notes On A Dream (2019 reissue)
Alongside his brand new solo album, Dream Theater keyboardist JORDAN RUDESS is reissuing 2019 one of his most celebrated LP's: "Notes On A Dream", featuring a new cover artwork.
The majority of this album contains piano versions of some of Dream Theater's favorite ballads as well as creating some original, progressive piano pieces.
Rudess's arrangements include many sections that were not in the original songs, especially solos. Tracks 3, 7, and 11 are original pieces where the musician expands his musical horizon.
On the Dream Theater songs, my favorite is "Another Day" (from Images And Words) done by Rudess with an exquisite sense of musicality.
Other songs curious to hear in this piano environment are "The Silent Man" (from Awake), "Hollow Years" (from Falling Into Infinity), the relaxed take on "The Spirit Carries On" (from Metropolis, Pt. 2: Scenes From A Memory) and the almost unrecognizable "The Answer Lies Within" (from Octavarium).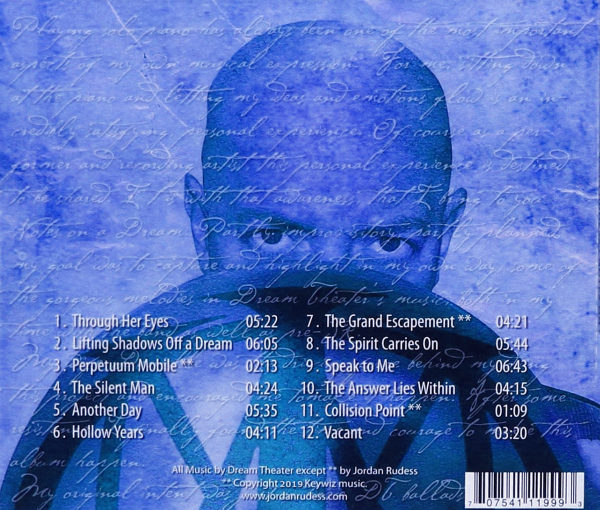 Something different for the soul, "Notes On A Dream" is greatly enjoyed with your favorite Scotch of wine at hand.
Highly Recommended
You've seen it first here, at 0dayrox
01 – Through Her Eyes
02 – Lifting Shadows off a Dream
03 – Perpetuum Mobile *
04 – The Silent Man
05 – Another Day
06 – Hollow Years
07 – The Grand Escapement *
08 – The Spirit Carries On
09 – Speak to Me
10 – The Answer Lies Within
11 – Collision Point *
12 – Vacant
All music by Dream Theater except * by Jordan Rudess
BUY IT !
www.amazon.de/gp/product/B07NQYKRH4
.