StOp, sTop! – Get Selfied (2019) *EXCLUSIVE*
Hard rockers StOp, sTop! are about to release their new, 4th album release "Get Selfied", next week. The British based band continues with their '80s retro-fueled hair metal music plenty of fun, as seen on their album title / artwork, and all over the effective and entertaining 12 songs on offer here.
We are presenting it here in exclusive at 0dayrox.
"Get Selfied" is pure fun, however, this time the guys in StOp, sTop! dialed to a more classic rock / hard rock approach than the sleazy, '80s LA rock scene hair metal flair of their previous works.
Mainman Jacob A.M. is the star of the show here, and, as he veers from Brian Vollmer (Helix) to Vicki James Wright (Johnny Crash) soundalike, you can't help but throw a horned salute towards his seemingly unfaltering commitment to Eighties hard rock and all its party-hardy trappings.
Throw in some Jizzy Pearl, some Helix, a sprinkle of KIX, a rubbing of Roxx Gang, blend it with some KISS and you've got a no frills, all thrills album. Songs around the 3-minute mark and a party vibe all over.
From the go 'Renegade' shows the more classic rockin' craft, something like 1985 AC/DC meets Kix. 'The Last Call' adds more groove but retaining the bluesy foundation. A very Helix-like hard rocker.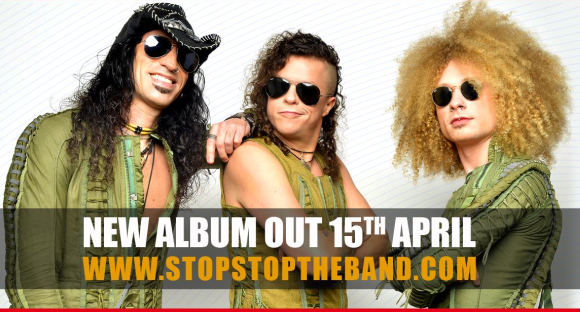 All songs pack a hook to tap your feet; the fun 'Bite The Bully', 'On The Red Line' (some Cinderella on it), the KISS influenced 'Living A Lie', and then again, more fun with 'Keyboard Warrior'
There's even some Alice Cooper on 'Have It', while they sneer to social media in 'Trending Topic'.
Closer 'You're Rock & Roll' is a statement of the StOp, sTop! approach for this new album; more classic rock n' roll than hair metal, yet the same fun than before.
It's a very well recorded and produced record with an '80s and now a little late '70s flavor, really entertaining, and effective.
Highly Recommended
01 – Renegade
02 – The Last Call
03 – Bite The Bully
04 – On The Red Line
05 – Living A Lie
06 – You Drive Me Loco
07 – Keyboard Warrior
08 – Whiner Doll
09 – Son Of A Beast
10 – Have It
11 – Trending Topic
12 – You're Rock & Roll
Jacob A.M. (vocals, bass)
Vega (guitars, backing vocals)
Danny Stix (drums, backing vocals)
PRE ORDER:
www.amazon.co.uk/Get-Selfied-Explicit-Stop/dp/B07PR5R482
www.stopstoptheband.com/online-store/4-StOp-sToP-CDs-p47445485
.