CRAZY LIXX – Forever Wild [Japan Edition +1] (2019)
Scandinavian melodic hard rockers CRAZY LIXX are back with a new collection of tune that harkens back to the best of '80s rock, while also keeping a foot planted in the 21st century. "Forever Wild" will be released next May 17th via Frontiers Music, and tomorrow appears this Japanese edition including a bonus track.
With huge choruses, memorable hooks and riffs, wailing, emotive guitar solos, and massive production by front  man Danny Rexon and Chris Laney, this album is sure to resonate with old fans and new listeners alike.
The band explores a wider range of styles than ever before on "Forever Wild".
From the hard rocking and anthemic opening track "Wicked" to the '80s AOR inspired "Silent Thunder" to songs like "Eagle" that sound like they came off a Bon Jovi album circa 1986, Crazy Lixx manage to blend a love and reverence for '80s rock with their own stamp on each track.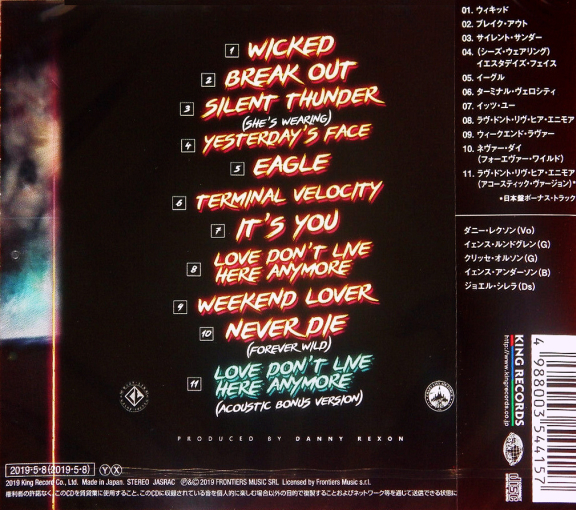 With "Forever Wild", Crazy Lixx have set the bar very high against their own revered and celebrated catalog. Their best album yet? Yes.
Highly Recommended
01. Wicked
02. Break Out
03. Silent Thunder
04. (She's Wearing) Yesterday's Face
05. Eagle
06. Terminal Velocity
07. It's You
08. Love Don't Live Here Anymore
09. Weekend Lover
10. Never Die (Forever Wild)
JAPAN BONUS TRACK:
11. Love Don't Live Here Anymore (Acoustic Mix)
Danny Rexon – vocals
Joél Cirera – drums
Jens Sjöholm – bass
Chrisse Olsson – guitar
Jens Lundgren – guitar
Pre Order:
www.cdjapan.co.jp/product/KICP-1983
.