JEAN BEAUVOIR – Rock Masterpieces Vol.2 [Remixed & Remastered] (2018)
Today we're presenting in exclusive JEAN BEAUVOIR "Rock Masterpieces Vol.2", recently released by AOR Heaven Records.
Already featured HERE at this blog, Vol. 1 was released in July to rave reviews around the world and 10 out of 10 in UK's PowerPlay Magazine, named the "Soundtrack of the Summer" in Sweden Rock Magazine with 8 out of 10, Classic Rock UK and Germany plus many others scoring it at the same high level.
Let me tell you "Rock Masterpieces Vol.2" is even better.
"Rock Masterpieces Vol.2" features more songs from Jean Beauvoir's fruitful career, including material from his solo albums, his bands Crown Of Thorns, Voodoo X, and more.
All these tracks have been remastered 2018, and about a half, freshly remixed.
As example, the great AOR song 'Live And Die' sounds pretty different, as well as the remix of 'This Is Our House' from Jean's solo album, with added instrumentation.
"Rock Masterpieces Vol.2" starts is full force with the opening salvo of Crown Of Thorns anthems, 'The Healer', Lost Cathedral', and 'Live and Die'. If you're a JB fan already, I don't need to sing the praises of these three great melodic rock songs. If not, where the hell have you been and buy this album!
'Motorcycle Loretta' is one of the best songs from the Crown, and is built around some splendid melodious riffs.
'Winterland' is probably in my top 3 all time Beauvoir songs, the type of AOR tune that just cheers me up, from the opening few bars, to the killer riff, and the awesome chorus it never fails to hit the spot. A gem.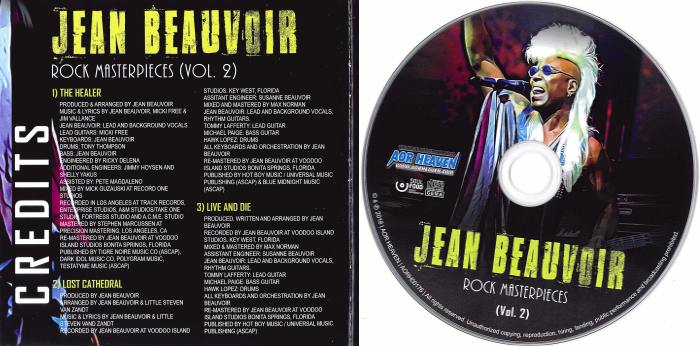 Voodoo X 'I'm On Fire' is terrific, a rip snorter of a tune, a killer riff competing with one of the best vocalists in the business. Fast and frenetic from beginning to end – typical Beauvoir at his rocking side.
'A Lover Like You' was co-written with Paul Stanley and has KISS DNA running right through it, and I'm pretty certain that's Stanley chipping in with background vocals, and is another gem of a song.
'Same Song Plays On And On' has US hit written all over it. And reprises some of the same sound from 'Feel The Heat', used for Stallone's Cobra soundtrack, while 'Searchin' For A Light' couldn't be any more Eighties.
Near the end of the disc we find the only 'metallic' song on this CD, 'No You Don't', akin Ozzy Osbourne / Randy Rhoads circa 'Diary of a Madman'… killer.
Closing there's the great ballad 'Happy Birthday'; don't be fooled by its title, this is one of the best, underrated power ballads from the '80s.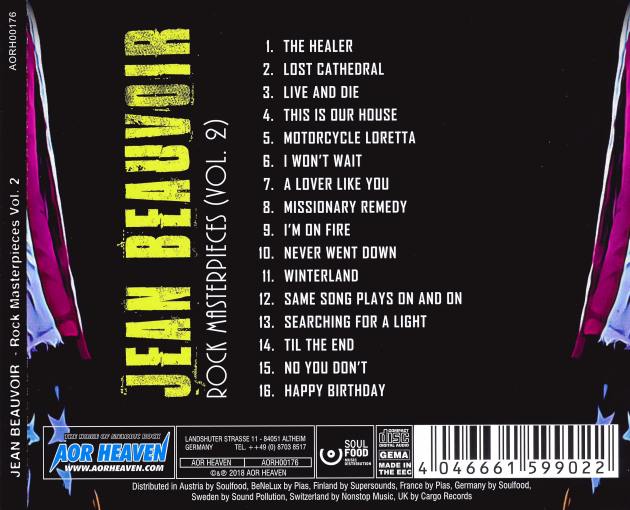 'Rock Masterpieces Vol. 2' provides an even better overview of Beauvoir's musical achievements. The disc is a really well-done compilation representing the best of Crown Of Thorns, Voodoo X and Jean's '80s solo. I can't think of many better anthologies that showcase an artist talent more than these two Rock Masterpieces volumes.
What I really like about 'Rock Masterpieces Vol. 2' is the selection of the more AOR / Melodic Rock oriented material from Beauvoir bands / albums, something obvious being an AOR Heaven Records release.
This is essential for anyone that like their rock music with a huge slab of big anthemic, melodic choruses.
Awesome stuff.
Only at 0dayrox
01 – The Healer
02 – Lost Cathedral
03 – Live And Die
04 – This Is Our House
05 – Motorcycle Loretta
06 – I Won't Wait
07 – A Lover Like You
08 – Missionary Remedy
09 – I'm On Fire
10 – Never Went Down
11 – Winterland
12 – Same Song Plays On And On
13 – Searching For A Light
14 – Til The End
15 – No You Don't
16 – Happy Birthday
BUY IT !
www.aorheaven.com/index.php/englisch_a/beauvoir-jean-rock-masterpieces-vol-2.html
.