PRETTY WILD – Interstate 13 (2019)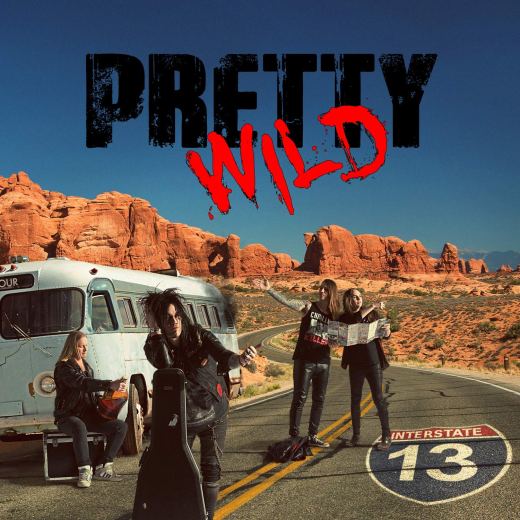 What defines PRETTY WILD is their punchy melodic, rocking sound and well-crafted songs featured on this new album "Interstate 13". All with a great vibe that just makes you feel good. The band has been around for more than a decade, refined their craft, and this, combined with their energy and "in-your-face" attitude, makes them a serious, fun and entertaining combo.
Since the first seconds of "Interstate 13" you can tell these Swedes have evolved a ton since its inception, with some of the members now hailing from the USA. Seems this helped to capture the Hair Metal vibe better than before, things are less sleaze in favor stronger guitar riffs, a good dose of keyboards and big anthemic choruses.
Additionally, production is very '80s-polished, without losing the ballsy delivery.
"Let's Get It Out" opens the album with a short intro that has a Bon Jovi "Lay Your Hands On Me" type vibe mixed with tribal drums, but soon explodes into a hooky number plenty of hooks and harmonies.
"Meant For Trouble" follows with a great chunky riff that reminds me of something that Zakk Wylde would have played around the No Rest For The Wicked period, though Pretty Wild sensibly choose not to add any form of pinch harmonics to the riff.
"Superman" is heavier, aggressive, yet with the catchy factor as main focus. After that crunchy track there's need for a hairy power ballad, and "Wild And Free" is a lights-in-the-air one, the type that would've been a hit single in 1988.
A Sunset Strip like contagious riff drive "Give It All Tonight" adorned with precise synth layers, "Stand My Ground" is more modern (think Reckless Love or Hardcore Superstar) sporting a huge chorus, then the great '80s inspired tunes continue with "The Way I Am" which is another crunchy rocker with a big commercial feel.
Another ballad arrives with "Thanks To You", this time different, not in the 'power' vein but more orchestrated, elaborated. A welcomed shift and a change in approach for a slow song.
"Shot Me Down" returns us to great energetic melodic hard rock / hair, "Walk The Edge" has a great melodic intro and I really love the verse and bridge riffs, while "I Love It" is another rocker this time bluesy based, quite punchy and with an explosive guitar solo and maintains the '80s vibe.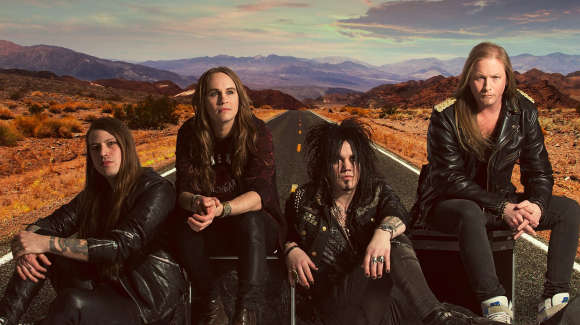 The last song on the album "Break Down The Walls" really solidifies what Pretty Wild is all about. It is a culmination of everything you will find on 'Interstate 13' –– big riffs, high pitched lead vocals, great gang vocals, driving rhythms, shredding guitar solos and busts of keyboards. It is the perfect song to conclude proceedings.
Pretty Wild really lands the 80s aesthetic, and much of this record will certainly evoke reminiscing to that era. At places is modern, appealing both old and new fans of the melodic hard rock genre.
It ticks all the right boxes, with a polished huge production, very good songs and solid musicianship.
Highly Recommended
01 – Let's Get It Out
02 – Meant for Trouble
03 – Superman
04 – Wild and Free
05 – Give It All Tonight
06 – Stand My Ground
07 – The Way I Am
08 – Thanks to You
09 – Shot Me Down
10 – Walk the Edge
11 – I Love It
12 – Break Down the Walls
Ivan Ivve Höglund – vocals
Axl Ludwig – guitar
Kim Chevelle – bass
Johnny Benson – drums
BUY IT !
www.amazon.com/Interstate-13-Pretty-Wild/dp/B07PD5PB1F
.