RUSS BALLARD – The Fire Still Burns [Air Mail Archive Japan miniLP remastered +3] Out Of Print
Alongside his self-titled 1984 album, this RUSS BALLARD following album "The Fire Still Burns" was also requested here in its collectible Japanese Air Mail Archive mini-LP edition, the only remastered version released, including bonus tracks, now out of print.
Originally released in 1985, "The Fire Still Burns" has the same vibe and atmosphere of the previous album: pure Eighties melodic radio-rock.
The man behind the hit songs for other artists, namely Rainbow ('Since You Been Gone', 'I Surrender'), Kiss ('God Gave Rock and Roll to You'), Ace Frehley (New York Groove), America ('You Can Do Magic'), Frehley's Comet ('In the Night', included here), Peter Criss, Bad English, and many more, delivers here in "The Fire Still Burns" another great collection of timeless tunes.
Opener 'Once a Rebel' is one of my favorites, the kind of midtempo AOR melodies you imagine being sung by Joe Lynn Turner in Rainbow's '83 album, or that Arc Angel could have recorded for their awesome debut LP.
'The Omen' is more poppy and brings to mind Loverboy, while 'Searching' is one of that trademark Ballard compositions with an aura of mystery, similar to his classic 'Voices'.
Mid-tempo AOR semi-ballad 'Hey Bernadette' become a radio hit, and still today is played at FM stations, one of these tunes that never gets old. Think Starship at its most elegance.
'Your Time Is Gonna Come' rocks more with a cool guitar riff, 'Dream On' has a 'soundtrack feel' over it, while title track 'The Fire Still Burns' is another winner, midtempo AORish with delicate guitar fills, cool synths and 'epic' chorus.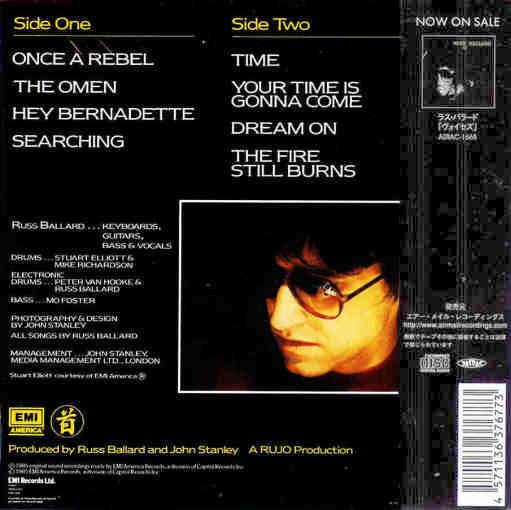 This out of print Japanese remastered reissue includes 3 bonus tracks, the 7" version of "The Fire Still Burns – Edit version", the obviously pre-production demo 'The Ghost Inside' which is very good anyway, and the best of all; 'Hold On', a pumping AOR song sporting a terrific chorus.
"The Fire Still Burns" is just another LP I played to death back in the '80s. The only thing I ever hate about this album is that only contains 8 tracks.
This Japanese remaster + 3 is a true collectible right now, and one to treasure. (thanks to Darlek for this exclusive gem)
First seen at 0dayrox
Air Mail Archive ~ 【AIRAC-1666】
01 – Once a Rebel
02 – The Omen
03 – Hey Bernadette
04 – Searching
05 – Time
06 – Your Time Is Gonna Come
07 – Dream On
08 – The Fire Still Burns
BONUS TRACKS:
09 – Hold On
10 – The Fire Still Burns (Edit Version)
11 – The Ghost Inside
Russ Ballard – vocals, guitars, bass, keyboards
Mo Foster – bass
Stuart Elliot, Mark Richardson – drums
Peter Van Hooke – electronic drums
Out Of Print:
www.cdjapan.co.jp/product/DAKAIRAC-1666