THE LRW PROJECT – To Love, Repeat & Wonder? (2019)
This is a very special post today; a 0dayrox reader and follower has just released his debut album. Hailing from York, UK, Leon Robert Winteringham is presenting his THE LRW PROJECT and its first CD titled "To Love, Repeat & Wonder?"
If Leon enjoy reading 0dayrox, you guess which musical genre he loves, right? Despite his young age (born 1990), Leon grew up listening to AOR classic albums.
He started playing guitar, but while attending a music course something happened… in his own words: "I attended a Music Course at Collage here in York and no-one wanted to sing in a project we was assigned to play a live gig… So I stepped forward and have grown as a singer ever since".
And not only as vocalist has progressed, but judging the material of offer here, also as songwriter and integral performer.
"To Love, Repeat & Wonder?" includes 10 songs composed, performed (all instruments) and produced by Leon himself. There's some guests such as the album's sound engineer Sam Graves providing some guitar / backing vocals, and saxophone by Mark Holden from Canadian AORsters BOULEVARD.
Not a surprise, as musically "To Love, Repeat & Wonder?" in many places brings to mind Boulevard first two albums, Blvd (1988) / Into the Street (1990).
We're talking about stylized, melodious, smooth Lite AOR / poppy AOR here, with that kind of pristine production so typically 1988 / 1992 from the Canadian / US factory of that era.
The overall feeling on "To Love, Repeat & Wonder?" also brought some memories from the early '90s 'recording artists', singer's solo albums such as BJ Thomas, Kenny Loggins, Al Denson, Keven Jordan, Paul Janz, Bob Halligan Jr., Tommy Funderburk, etc.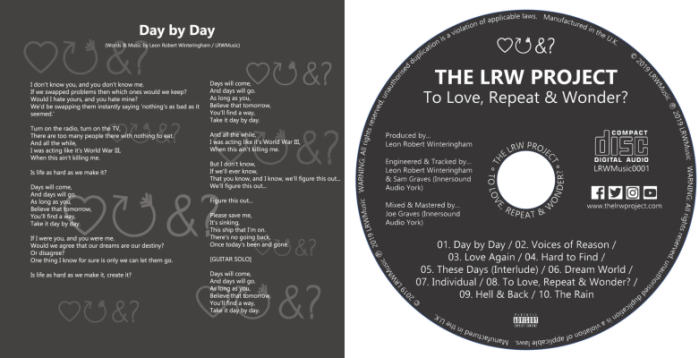 The first thing that impressed me about "To Love, Repeat & Wonder?" is the quality production sound, mixing and mastering. Top class, above the bar for an indie release.
Then of course, the songs, cleverly build around charming melodies wrapped by delicate arrangements, the complete instrumentation, and Leon's voice, sweet and smooth.
All are strong songs, namely 'Day By Day' with its soaring verses and fine guitar work, the lovely 'Voices of Reason' (featuring Holden on sax adding a nice touch), the very Canadian-esque AOR of 'Love Again' (some Paul Janz on it), while 'Hard to Find' somehow reminds me of a David Hallyday song.
On 'Dream World' Leon creates precious atmospheres, there's a Richard Marx-like rhythm to 'Individual', whilst title track 'To Love, Repeat & Wonder?' is a very classic semi-ballad sporting a slightly LA Westcoast breeze plus solid lyrics.
'Hell & Back' is a highlight, another song recalling the golden Canadian era with smooth verses and a Stan Meissner inspired chorus. However, and despite the mentioned – in my opinion – influences, Leon has his very own style & sound, a genuine craft.
Also worth mentioning about this release is the artwork design, professionally done with complete liner notes and full lyrics.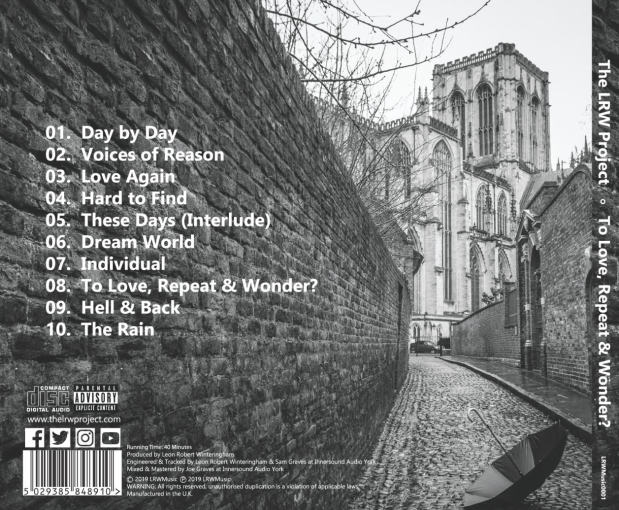 It's truly refreshing to hear a young artist like Leon Robert Winteringham and his THE LRW PROJECT doing this type of music, rich in timeless melodies and a classy production sound.
You can support this talented British indie musician purchasing the physical CD of "To Love, Repeat & Wonder?" at thelrwproject.bandzoogle.com/store – and please visit him at facebook.com/thelrwproject
Highly Recommended
01 – Day By Day
02 – Voices of Reason
03 – Love Again
04 – Hard to Find
05 – These Days (Interlude)
06 – Dream World
07 – Individual
08 – To Love, Repeat & Wonder?
09 – Hell & Back
10 – The Rain
Leon Robert Winteringham – vocals, all instruments
Sam Graves – additional guitar / backing vocals
Mark Holden – sax on 2
BUY IT !
thelrwproject.bandzoogle.com/store
www.amazon.co.uk/Love-Repeat-Wonder-Explicit/dp/B07R5ZRFQR
.