WHITESNAKE – Flesh & Blood [Deluxe Edition] (2019)
After celebrating their 40th anniversary last year (time flies), hard rock legends WHITESNAKE return with their latest studio album, "Flesh & Blood", the first with original material since 2011.
And Coverdale & Co. does not disappoint disappoints: "Flesh & Blood" has elements of Whitesnake all-eras – and that's saying a lot – and easily it's the band's best record since the '90s.
Since joining the band four years ago, and just in time for the aforementioned 'The Purple Album', Chicago native Joel Hoekstra has really come into his own, not only as a highly impressive axe-slinger, but also as a very accomplished songwriter too, co-writing six of the songs for "Flesh & Blood" with singer David Coverdale. Of course Joel's talents are hardly surprising, considering he's the son of two classical musicians.
Guitarist Reb Beach, who originally joined Whitesnake in 2002, has stepped up to become the group's bandleader and guides the band to implement Coverdale's musical vision.
As well as bringing his impressive musical chops, Reb has co-written five songs on the new album, the fourth studio album he has appeared on, commencing with 2008's highly acclaimed "Good To Be Bad".
2011 saw the debut of bassist Michael Devin. The New Englander's four-string-depth-charge-bass-bombs definitively underpin and drive the sound of Whitesnake in the 21st century.
Rounding out the rhythm section is David's longest serving 'Snake, the renowned drummer and unstoppable percussionist Tommy Aldridge, who has been with Whitesnake in some capacity for 30 years. Tommy made his debut with Whitesnake way back in 1987 in the 'Still Of The Night' video, becoming a mainstay behind the kit for successive albums and tours.
Last, but certainly not least, the band is completed by the inventive keyboards and vocals of Italian maestro Michele Luppi, who made his live debut in 2015, as documented on "The Purple Tour" live CD/DVD (2018).
The current incarnation of the band carries on the long and unwavering tradition of mainman David Coverdale being surrounded by cream of the crop players who go all in to bring fans the best hard rock humanly possible. 40+ years into their existence, the 'Snakes fangs have only grown sharper and are ready to inject fans with more of that rock 'n roll venom they crave.
As said above, the album has elements of Whitesnake all eras: "Good To See You Again" has a nod to their early '80s, of course, wrapped by a glossy updated production. Then "Gonna Be Alright" is very 'Coverdale', bringing to mind his solo albums, and also the really good Coverdale / Page album. A showcase for David vocals and a different sound approach.
Do you need some late '80s American White Serpens? the infectious third track "Shut Up And Kiss Me" delivers. Is this from Slip Of The Tongue? No? Well, it could have been. Kills.
Track 4 "Hey You (You Make Me Rock Hard)" has a quite Deep Purple sound to it. It's like a 'Burn' lost track with multi-layers of guitars and a huge production, but the essence is the same.
Do you miss the '1987' sound? Then tell me if the guitar harmonies on track 5 "Always And Forever" aren't in the same style. Also the verses, and David's melodious phrasing. Love it.
And that's the first 5 tracks… the entire Whitesnake eras are covered in tracks to come as well. and wonderfully.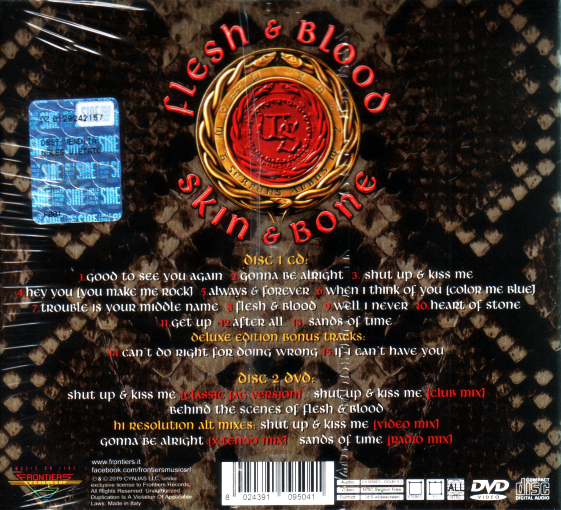 David Coverdale really surprised me with "Flesh & Blood". This is one of the best albums in Whitesnake's discography. The record was originally scheduled 2017, delayed 2018 and now finally comes in all its splendor. Well worth the wait, believe me.
The songwriting, performances and production are impressive. "Flesh & Blood" is one of the greatest 'hugely produced' albums of the decade. Yes, like in the '80s… production is terrific.
"Flesh & Blood" is terrific. A future classic.
Buy or Die
01. Good To See You Again
02. Gonna Be Alright
03. Shut Up And Kiss Me
04. Hey You (You Make Me Rock)
05. Always And Forever
06. When I Think Of You (Color Me Blue)
07. Trouble Is Your Middle Name
08. Flesh And Blood
09. Well I Never
10. Heart Of Stone
11. Get Up
12. After All
13. Sands Of Time
BONUS TRACKS:
14. Can't Do Right For Doing Wrong
15. If I Can't Have You
16. Gonna Be Alright (X-Tendo Mix) – DVD Audio Track
17. Sands Of Time (Radio Mix) – DVD Audio Track
18. Shut Up And Kiss Me (Video Mix) – DVD Audio Track
David Coverdale — vocals
Reb Beach — guitar
Joel Hoekstra — guitar
Michael Devin — bass
Tommy Aldridge — drums
Michele Luppi — keyboards
PRE ORDER:
www.amazon.co.uk/Flesh-Blood-Whitesnake/dp/B07NN65D43
.