ROCK CANDY MAGAZINE – Issue 11
In the style of the essay included into each CD booklet about the band in question, ROCK CANDY MAGAZINE is a bi-monthly, 100-page Rock publication produced and managed by a bunch of specialized British Rock journalists with decades of experience in music and mags, writing for legendary publications including Kerrang!, Metal Hammer and Raw.
Simply put, in each issue there's loads of great features and articles on many great bands and artists from the classic eras of Rock and Metal's history.
The quality of the featured material is excellent, ranging from reviews, band's history, recommendations, 'lost bands' section, rare tracks, video guide / YouTube hidden gems, and a lot more.
Issue #11 features a 10-page dedicated to WHITESNAKE / DAVID COVERDALE, his story to present including never seen rare photos since the DEEP PURPLE years and the story behind them.
There's an excellent interview with Kevin Cronin of REO SPEEDWAGON about the long, hard road they traveled.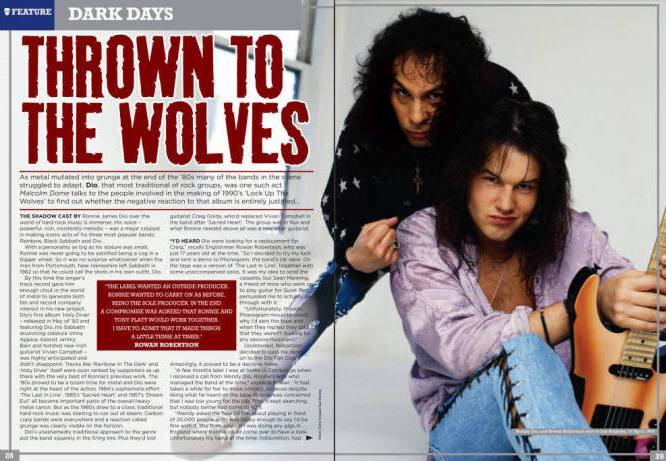 I also loved the DIO feature by renowned Malcolm Dome, the reproduction of the original Kerrang Magazine 1987 main articles about Reading Festival, AEROSMITH 'Back from the Dead', WASP against Washington wives, LOVERBOY, etc.
There's a juicy interview with ULI JON ROTH, and also articles with HEAVY PETTIN' JASON BECKER, UFO, IRON MAIDEN, NAZARETH, BLACK SABBATH, RICK WAKEMAN, ANTHRAX, DAN REED, 'Overlooked' section with ROSE TATOO, and more.
In 'classic albums revisited' there's HEART, you find lots of album reviews, lovely old promo-shoot collections, Rock Candy's picks / recommendations, Rare Videos playlists, etc.
A MUST
BUY IT !
www.rockcandymag.com/
.