RIOT – Restless Breed [Rock Candy remastered] (2019) *Exclusive*
RIOT's fourth album "Restless Breed", the first featuring vocalist Rhett Forester, has been Remastered & Reloaded by Rock Candy Records. Originally released in 1982, the record showcased a more 'commercial', glam hard rock sound that was raising strong in America.
The creation of "Restless Breed" followed a Riot's period of intense activity both physical and emotional, having survived a series of knockbacks over the years that would have decimated lesser contenders.
The fact that they had recently survived several line-up changes, an underfunded UK tour supporting Sammy Hagar and bagged a spot on the 1st Monsters Of Rock festival was a minor miracle.
With interest building amongst grass roots fans the future was actually beginning to look bright. That was until frontman Guy Speranza made a decision to leave the band.
Fatigued by years of touring and (literally) banging his head against a brick wall, he moved aside for Rhett Forester, a man seen as a golden ticket to bigger and better things.
Now signed to Elektra Records, Riot once again retreated to their management's downtown New York studio to craft "Restless Breed", a record that packed a bunch of hard rockin' songs filled with riffs and vocals delivered like a punch to your throat.
"Restless Breed" gets under way via 'Hard Lovin Man', a straight kick to your guts rocking track. Rhett sings it like he lived it. The guitar tandem of Rick Ventura and Mark Reale rocks with each trading off a barrage of solos while Rhett just wails away.
'CIA' is a take no prisoners tune featuring a slick melodic chorus, followed by the title track which starts off simple enough and then ramps up come chorus time.
'When I Was Young' kinda has 'classic rock' written all over it. It's a cover of the The Animals, done wth Seventies feel yet with an early '80s production.
Drummer Sandy Slavin and bassist Kip Lemming have a spot for their instruments to start off 'Loanshark'. It's a classic hard rocker in the vein of early Riot material, and always reminded me of an old Sammy Hager song. Tons of ride cymbal here and hot solos.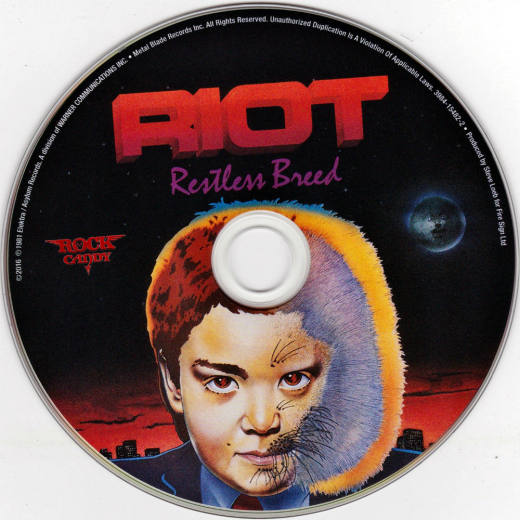 The intro to 'Loved By You' sounds like Dokken's 'Into The Fire' but played in a different key, mind you. A clear example of the sound being developed in America at the time. Rhett is dabbling on a harmonica before the solo for a nice, fun touch.
'Over To You' is another song with radio potential, catchy, think Twisted Sister as comparison. Then 'Showdown' is a solid bluesy hard rock ballad, with great atmosphere.
'Dream Away' keeps the Riot hard melodic train a rolling while the chorus has Rhett and the guitars trading off. To end the album, 'Violent Crimes' kicks you square in the crotch. Ouch! No fooling around. The song just flat out rocks.
"Restless Breed" was, in many respects, hamstrung by a new label who really didn't know how to market their kind of act.
Previous Riot releases had benefited from the band's resourceful managers and an ability to connect with a fan base, but this time around they were left constrained by a label that refused to support them on tour and were dropping the promotional ball at every turn.
Rocking n' kickin album. Highly Recommended
You've seen it first here, at 0dayrox
01 – Hard Lovin' Man
02 – CIA
03 – Restless Breed
04 – When I Was Young
05 – Loanshark
06 – Loved By You
07 – Over To You
08 – Showdown
09 – Dream Away
10 – Violent Crimes
Rhett Forrester – vocals, harmonica
Mark Reale – guitar
Rick Ventura – guitar
Kip Leming – bass
Sandy Slavin – drums
BUY IT !
www.amazon.co.uk/Restless-Breed-Riot/dp/B07NBCYGR8/
.