SHARK FRENZY (Richie Sambora) – The Pre Bon Jovi Years Vol 1 & 2 [remastered]
This was requested by one of you: the recordings of Richie Sambora during his pre-Bon Jovi years with the band SHARK FRENZY. Before guitarist Richie Sambora joined Bon Jovi in 1983, he jammed with a number of bands in the New Jersey region. One of those bands was Shark Frenzy, a group fronted by one Bruce Foster (vocals, guitars, keyboards).
All the group's recordings were released on a 2CD set titled "Shark Frenzy: The Pre Bon Jovi Years Vol 1 & 2".
In the late '70s, Foster and other local musicians held court several nights a week at Charley's Uncle, a steakhouse in a strip mall off Route 18 in East Brunswick, NY.
The shows developed a loyal following, especially once a teenage guitarist named Richie Sambora entered the fray.
Foster recalls: "An immediately likeable 18-year-old named Richie Sambora asked if he could jam with us. To my band's amazement, I agreed. We started playing 'Kansas City,' a song everybody knows. Richie's rhythm playing was OK, so I said, 'Richie, take a solo.' He flipped the toggle switch on his Les Paul custom and played one beautiful, sustained note that sounded like a violin.
Before he played the next note, I turned to him and said, 'You're in the band.' "
Soon after, Sambora put a foot into a recording studio for the very first time to record some Shark Frenzy songs. So the little music scene in East Brunswick got a sneak peek at someone who would soon become an internationally loved guitar hero.
Decades later, Foster went through these tapes, live cuts and mixes, some of which had been damaged by a flood, and restored them for "Shark Frenzy: The Pre Bon Jovi Years Vol 1 & 2".
The music is very much of its time — classic rock in all its variants, there are elements of new wave, tracks influenced by The Beatles and the Rolling Stones, and there is Sambora's youthful, driving guitar throughout it all.
As examples, "Come Saturday Night" owes a big debt to the Bay City Rollers, but is just as fun — a simple, teen anthem to the weekend. If The Ramones had decided to go the arena-rock route, rather than cultivate a punk scene in the Bowery, they might've played something like Foster's "Live Fast, Love Hard, Die Young."
The percussion-heavy "Law of the Jungle" makes room for plenty of sinewy guitar, while "The One With Angel Eyes" is pure Jersey bar band.
But my favorite should be "I Need Your Love", the first own composed Sambora song he recorded with Shark Frenzy. He does the lead vocals as well, and you can clearly hear what this talented – then teenager – would do later…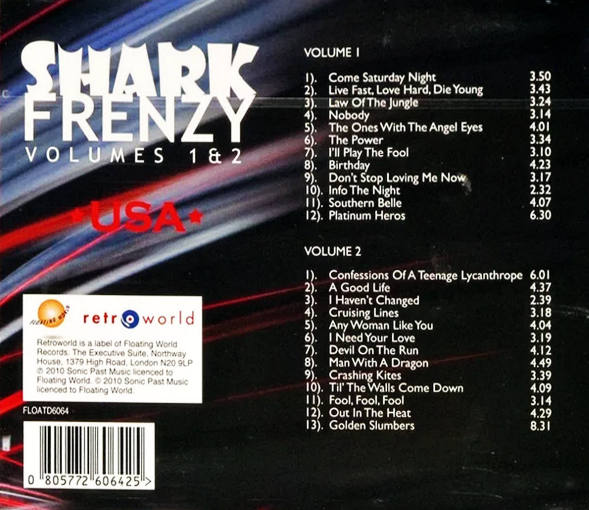 The two musicians went separate ways after the break-up of Shark Frenzy. Sambora joined Bon Jovi and sold over 100 million albums. Bruce Foster started a career as a session musician, lending his keyboard-sounds to the likes of Guns 'n' Roses, Kiss and Status Quo.
He would, however, reunite with his old guitarist a number of times. One time he co-wrote the song 'One Light Burnin' for Sambora's 1991 solo debut album Stranger In This Town. The other time was when the duo penned the song 'Trail Of Broken Hearts' for Sambora's former girlfriend, Cher.
In 2004, Richie Sambora and Bruce Foster reunited Shark Frenzy to play a one-off gig for a small audience of invited guests consisting of old friends and family.
This double CD-set is a great artifact of New Jersey rock 'n' roll, well suited for anyone curious to the roots of all that big-haired hard rock of the '80s, and of course, Sambora 's music.
Collector's stuff
VOL 1
01 – Come Saturday Night
02 – Live Fast, Love Hard, Die Young
03 – Law of the Jungle
04 – Nobody
05 – The Ones With the Angel Eyes
06 – The Power
07 – I'll Pay the Fool
08 – Birthday
09 – Don't Stop Lovin' Me Now
10 – Into the Night
11 – Southern Belle
12 – Platinum Heroes
VOL 2
01 – Confessions of a Teenage Lycanthrope
02 – A Good Life
03 – I Haven't Changed
04 – Cursing Lines
05 – Any Woman Like You
06 – I Need Your Love
07 – Devil On the Run
08 – Man With a Dragon
09 – Crashing Kites
10 – Til' the Walls Come Down
11 – Fool,fool,fool
12 – Out in the Heat
13 – Golden Slumbers
Richie Sambora – guitar, vocals
Bruce Foster – vocals, guitar, keyboards
Jody Giambelluca – bass, keyboards
Steve Mosley – drums
Tim Rudolph – percussion
BUY IT !
www.amazon.com/Shark-Frenzy-1-Richie-Sambora/dp/B003WWZ1TI
.