JIMI ANDERSON GROUP – I Belong (2019)
JIMI ANDERSON is one of the best hard rock vocalists out there these days. Astonishingly enough, "I Belong" is the only the second solo effort from the Scottish-born musician with his band JIMI ANDERSON GROUP, although he has been around in the business for decades.
It's an album that comes from the heart, a songwriting-wise very interesting LP which on some songs connects with the fate of American natives. A mature album of an artist who feels home in many stylistic areas like Melodic Rock, AOR ballads and bluesy Hard Rock and everything fits like like a glove naturally.
All tracks here will put a big smile in face, taking ou to an era – '80s baby ! – when melodies ruled in the Rock business. Just push play on 'Wonderful Tokyo Nights' and then tell me. This awesome midtempo melodic rocker worth this album alone.
The pulse o "Brave New World" is pure American radio friendly circa 1984, and if you loved you Night Ranger first era, better check "Holdin' on to the Night". Fantastic.
The music is The VU or Two Fires is your type of thing? "If All I Need Is You" seems escaped from these sessions, and of course some shades of Journey arise.
Elsewhere, Jimi Anderson shows that his years performing AOR and melodic rock classics live allow him to put in an emotion filled vocal on the superb ballad 'Until Then', which also features a suitably grandiose guitar solo midway through. Jim Peterik would be proud of this.
"Fearless Warrior" is a nice bit of hard rock with a strong storytelling lyric, while call me nutsbut I found some Loverboy on the joyful melody / synths sound of "I'm a Believer", another winner for me.
"I Wanna Go Round Again" add a touch of classic rock to the proceedings, Jimi play some atmospheric bluesy licks on the properly titled "Jamie's Blues", and for a slow, acoustically filled ballad, check out the beauty of title track "I Belong".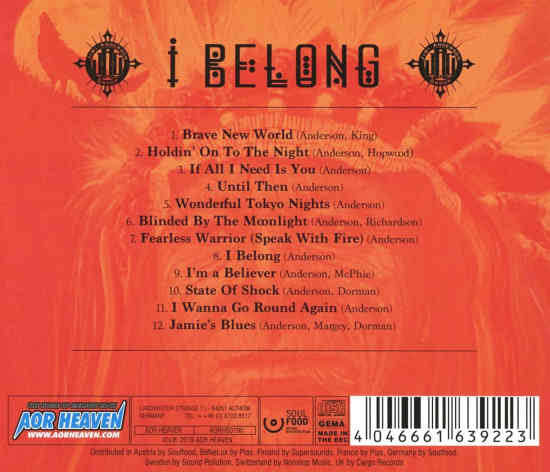 At this point, and after listening to "I Belong", Jimi Anderson and his Group really deserve more recognition and exposure, as this music is what true classic rock is all about: honest, well written and perfectly performed.
This is the kind of albums you love at first play, and you'll be back for more… all songs a brightly melodic, with that '80s atmosphere to hard to obtain nowadays.
Speaking about production, all is crystal clear and very well mixed, where Jimi's classy vocals shine.
HIGHLY RECOMMENDED
01 – Brave New World
02 – Holdin' on to the Night
03 – If All I Need Is You
04 – Until Then
05 – Wonderful Tokyo Nights
06 – Blinded by the Moonlight
07 – Fearless Warrior (Speak with Fire)
08 – I Belong
09 – I'm a Believer
10 – State of Shock
11 – I Wanna Go Round Again
12 – Jamie's Blues
Jimi Anderson – vocals, keyboards
Dave Cuthbert – lead and rhythm guitars on tracks 2, 4, 5, 6, 7, 9
Greame Duffin – lead and rhythm guitars on tracks 8, 10, 11
Sandy Jones – guitars, bass, drum programming
PRE ORDER
www.aorheaven.com/index.php/englisch_b/jimi-anderson-group-i-belong.html