ROCKETT LOVE – Greetings From Rocketland (2019)
Swedish Melodic Rockers ROCKETT LOVE lead by Stefan Westerlund (g) and Daniel Samuelsson (v) put out their sophomore album "Greetings From Rocketland" tomorrow via AOR Heaven. The new songs are a little more edgy than on their debut album but there are still lots of melodies and powerful arrangements all over the place.
Mixed by Erik Martensson (ECLIPSE, W.E.T.) "Greetings From Rocketland" is strong contender for the 2019 Top Ten of the genre for sure. Fans of TREAT, H.E.A.T. or MIDNITE CITY will absolutely dig this.
The album opens with 'Back On My Feet' a track to set the scene with punchy drums pounding, a quite a fast set of riffs and sure fire bass, plus husky vocals for amelodic delivery. Next up is th blistering guitar driven 'Bite The Bullet' sustaining the tempo of the 1st track. For some reason whilst I had my eyes closed absorbing the rhythm I had flash backs of an '80s W.A.S.P. video that was never made.
Track three, 'I Want Out' is a masterpiece of well woven tapestry of sound testament to the musicianship of the band, where you can hear Martensson's touch. This is a big rocking track with bouncing riffs.
Now we get into 'Get Ready, Go!', a killer, commercial and catchy as hell melodic rocker, an album highlight. Eighties radio friendly, boot tapping and singing along.
'Take Me Home' opens with guitars and deep vocal melodies rising to high altitudes. The magic of this album continues with driving bass and rhythm section, fluid guitar solos and wonderful harmonies.
Now we have track six, 'King For One Day' that will have you rocking your head all day, destined to the arenas and sure live favorite in the future.
'Writing On The Wall' sets a slightly anxious sounding tone and carries you forward into some nice riffs, it has an almost bluesy foundation, but don't be fooled, this baby rocks hard. 'Reaching Out' and is doing just that. This has massive energy and expresses the bands range well. Heavy and melodious
Simple yet awesomely riff-driven, 'Like An Endless Distant Sky' is edgy, and will keep you playing air guitar for 3:44 minutes. Here the band try a much modern sound, and it's welcomed for the album balance.
With 'Wait', Rockett Love brings back again that classy Scandi melodic rock with a midtempo AOR feel, and darn, these guys are really good at it. The chorus is awesome, and if released in 1988, this would have been a hit. A winner, favorite of mine for sure.
Closing track 'A Heart Without A Soul', is a splendid mix of catchy verses / riffs and spontaneous foot tapping reaching a beefy ending to a well produced and thought-out album.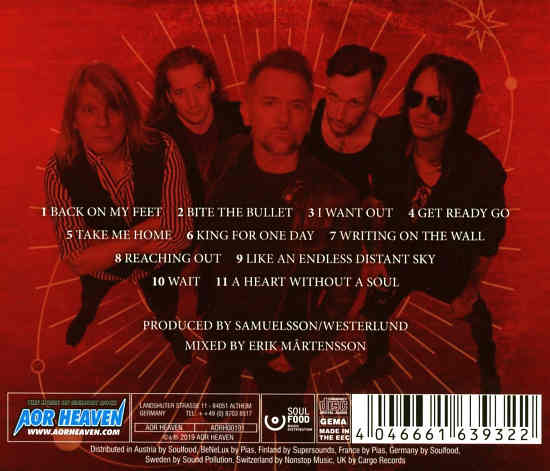 Do you miss Eclipse's early albums melody? Do you like that mixed with muscular riffs and a huge sound? You found it: buy Rockett's Love "Greetings From Rocketland" asap.
For me, one of the best albums of the year so far.
01 – Back on My Feet
02 – Bite the Bullet
03 – I Want Out
04 – Get Ready, Go!
05 – Take Me Home
06 – King for One Day
07 – Writing on the Wall
08 – Reaching Out
09 – Like an Endless Distant Sky
10 – Wait
11 – A Heart Without a Soul
Daniel Samuelsson – Vocals
Stefan Westerlund – Guitars
Gustaf Eklund – Guitars
Dennis Vestman – Bass
Fredrik Ahlin – Drums, Percussion
PRE ORDER:
www.aorheaven.com/index.php/englisch_b/rockett-love-greetings-from-rocketland.html