ROCKETT LOVE – Grab The Rocket [Japan Edition +1]
With only one song on iTunes and no publicity backup, Swedish Melodic Rock band ROCKETT LOVE received a great deal of radio time (and was featured in this blog's Advanced Releases series). The song was 'Rocket Love', and had a big viral spin when legend Beau Hill took the song to his studio and re-mixed it.
This ended with the band signed by AOR Heaven Records and releasing their full length debut "Grab The Rocket", in this Japanese edition including as bonus track, precisely that "Rockett Love (Beau Hill mix)" version.
The first thing that impress is the confidence these guys spread all over the record; they are not afraid to add a modern spin to the classic melodic hard rock formula, resulting in a fresh and at the same time ageless collection of songs.
Sure, the influences are shown, ranging from a Dave Lee Roth fronted Van Halen to a more contemporary Swedish melodic rock sound like Jeff Scott Soto's W.E.T., but Rockett Love has its own, distinctive sound.
Opener 'Never Surrender' with its punch, catchy choruses and the solid vocals of Daniel Samuelsson is the perfect example of what this band is all about, but there's more.
Next 'One of These Days' offers a different side, especially on the vocal phrasing, showcasing that Rockett Love is not just a one trick pony.
The single 'Rocket Love' (3rd song), with a powerful riff assemble + vocals that bring to mind W.E.T. is terrific. The chorus kills, the guitar soar, and the rhythm section a blast. A highlight.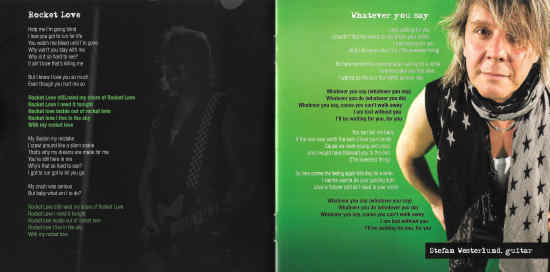 'Whatever You Say' is built for the arenas (some Vega on it), 'We Will Be Heroes' has that early Van Halen swagger we all love, and 'Rev it Up' is darker, groovy, in the vein of the last Winger.
'Shining Light' rocks with potent riffs, and again here Samuelsson delivers a chameleonic vocal performance sounding different than on any of the previous tracks. This guy's range is amazing. There's a smoking guitar solo too.
'Love and Money' is just another fabulous cut plenty of energy, then a pumping bass drives 'Line of Sight', a song with a distinctive set of riffs and again, great vocals, this time slightly raspy.
'Fall on Your Knees' add acoustics to the mix but this is not a ballad, and rocks with style.
For the end, 'Heart of Stone' bring some classy hard rock to the table, and damn, it certainly rocks. Sharp riffs, powerhouse vocals and a kickin' rhythm section.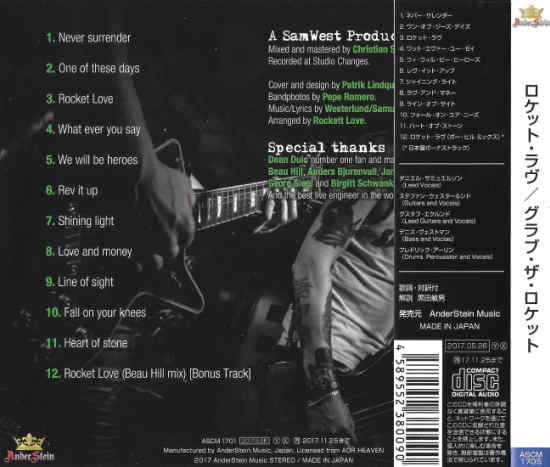 The talent emerging from Sweden has not end in sight.
Rockett Love is just another terrific band, a young promise to the Melodic Hard Rock scene, and while "Grab The Rocket" is their first step they sound like a seasoned bunch of professionals, and the best part of all; they write killer songs.
Highly Recommended
AnderStein Music 【ASCM 1705】
01 – Never Surrender
02 – One of These Days
03 – Rocket Love
04 – What Ever You Say
05 – We Will Be Heroes
06 – Rev. It Up
07 – Shining Light
08 – Love and Money
09 – Line of Sight
10 – Fall on Your Knees
11 – Heart of Stone
JAPAN BONUS TRACK:
12 – Rockett Love (Beau Hill mix)
Daniel Samuelsson (vocals)
Stefan Westerlund (guitar)
Gustaf Eklund (guitar)
Dennis Vestman (bass)
Fredrik Ahlin (drums)
BUY IT !
www.cdjapan.co.jp/product/ASCM-1705