NIAGARA – Now Or Never [Digitally Remastered] Out Of Print
Now this is a little gem from the '80s that you need into your Melodic Rock / AOR collection: "Now Or Never", the debut album by Spaniard band NIAGARA. This is the '90s remastered CD edition, out of print but few copies still available at selected stores. Prestigious British magazine Kerrang! rated it 5 stars and you can hear why; this is a wonderful slice of Scandi influenced MR / AOR in the Europe's 'Out Of This World' vein.
Founded in late 1985 from the union of guitarist V.M. Arias and his former partner in Bella Bestia, Tony Cuevas, English singer of Spanish parents, both began composing and rehearsing songs that later would be part of this Niagara debut "Now Or Never".
While being Spanish-based, Niagara's aim was the international market so the English lyrics, and thanks to Cuevas' perfect accent-free vocals and modern sound for the era (1988), the album was released in UK as well with the band extensively touring there the next year.
While plenty of keyboards and addictive choruses, as mentioned, in a style similar to second half of the '80s Europe or Treat, Peroux, etc, Niagara's had a 'special' own touch on the guitars, at places biting and heavy.
After the synth heaven intro "Fallen Angel", we find a succession of killer tracks in the purest tradition of the genre from the 1986/88 period.
All are pure gold for fans of the genre, just to name a few "I Will be There" (awesome), "Now or Never", "Walking", the heavier "I Should Be Stronger" or the power midtempo ballad "Take my Hand" will rejoice you all.
All band members contribute backing vocals, creating delicious layers of harmonies.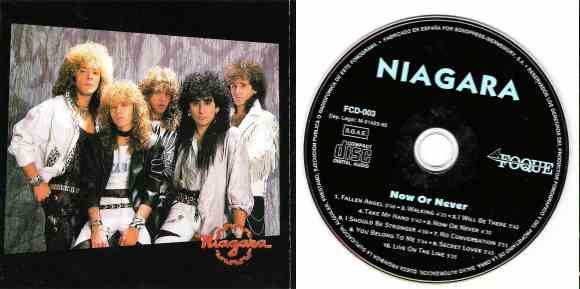 While production resulted a bit flat, this remastered reissue makes wonders to the overall output. Be aware there's a digital download version floating around the web and some stores, but not with the audio quality of this physical CD.
Niagara's "Now Or Never" is 'that kind' of magical '80s Melodic Rock / AOR album, believe me.
HIGHLY Recommended
01 – Fallen Angel
02 – Walking
03 – I Will be There
04 – Take my Hand
05 – Now or Never
06 – I Should Be Stronger
07 – No Conversation
08 – You Belong to me
09 – Secret Lover
10 – Live on the Line
Tony Cuervas – lead vocals
V.M. Arias – guitars, vocals
Enrique Castaneda – keyboards, vocals
Angel Arias – Bass, vocals
Jose Martos – drums, vocals
Out Of Print
try here:
www.demonsshop.com/cd-heavy/11938-cd-niagara-now-or-never.html