ALICE COOPER – Breadcrumbs (2019) + Live Wendler Arena '78 (2019)
Legend ALICE COOPER announced the release of the EP titled "Breadcrumbs", which will arrive on September 13 via earMusic, and confirmed a new studio album will be out next year.
"Breadcrumbs" is a tribute to the Rock heroes from Alice's hometown Detroit city, which include covers of "Sister Anne" by MC5, "Your Mamma Won't Like Me" by Suzi Quatro and "Devil With a Blue Dress" by Mitch Ryder & The Detroit Wheels.
A new Cooper track titled "Go Man Go" is also featured, along with a remake of Detroit City, which originally appeared on The Eyes Of Alice Cooper back in 2003. The new version is titled "Detroit City 2020".
For the recordings, the shock rock legend recruited MC5's Wayne Kramer, jazz singer Paul Randolph, ex-Grand Funk Railroad singer / guitarist Mark Farner, ex-Detroit Wheels drummer Johnny "Bee" Badanjek and The Dirtbomb's Mick Collins.
As a curious cover choice, there's also Bob Seger' track "East Side Story". Seger and his band The Last Heard originally released the single in 1966, with Cooper's version being updated and with his classic 'horror touch'.
Great stuff very well recorded, true classic rock as it should be done.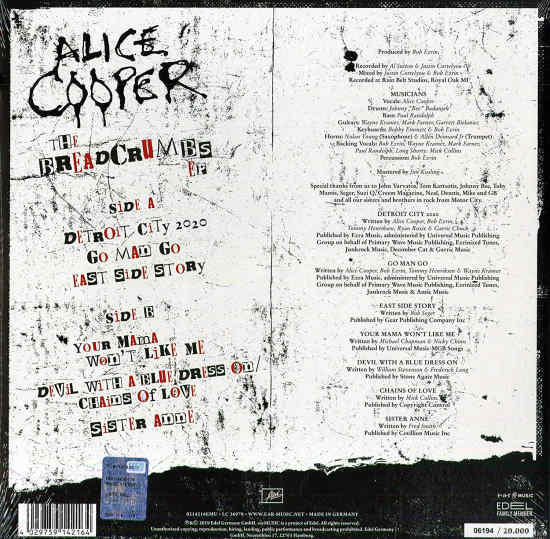 Additionally, Cooper's Live Wendler Arena performance from 1978 has been re-released with a remastering sound – cleaned – a strong show with nice songs from Alice's catalog.
01 – Detroit City 2020
02 – Go Man Go
03 – East Side Story
04 – Your Mama Won't Like Me
05 – Devil with a Blue Dress On / Chains of Love
06 – Sister Anne
Live Wendler Arena '78 Remastered (2019)
07 – Under My Wheels (Broadcast 1978)
08 – Billion Dollar Babies (Broadcast 1978)
09 – I'm Eighteen (Broadcast 1978)
10 – Is It My Body (Broadcast 1978)
11 – Devil's Food (Broadcast 1978)
12 – The Black Widow (Broadcast 1978)
13 – You And Me (Broadcast 1978)
14 – Only Women Bleed (Broadcast 1978)
15 – Unfinished Sweet (Broadcast 1978)
16 – Escape (Broadcast 1978)
17 – I Love The Dead (Broadcast 1978)
18 – Go To Hell (Broadcast 1978)
19 – I Never Cry (Broadcast 1978)
20 – School's Out (Broadcast 1978)
PRE ORDER:
www.amazon.co.uk/Breadcrumbs-12-VINYL-Alice-Cooper/dp/B07TPYXYQM
www.amazon.co.uk/gp/product/B07WLY36NG