ALICE COOPER – The Black Widow [Live at Wendler Arena '78 Remastered] (2019)
One of the best American Radio Broadcast from ALICE COOPER has been released, digitally remastered, under the title "The Black Widow".
This recording was made during Cooper's early 1978 tour, which he had launched to promote his first live album, The Alice Cooper Show, three years after the original and enormously popular Alice Cooper Band had been dissolved.
Cooper himself was trying to make the transition from camp-ish rock ghoul to more mainstream rock icon, as songs like "Only Women Bleed," and "How You Gonna See Me Now?" clearly reveal.
His band was made up of top L.A. session players as well, including Dee Murray & Dennis Conway (both from Elton John's band), Steve Hunter (Aerosmith) and Fred Mandel (Queen).
They were unquestionably a better group of musicians than the original Alice Cooper Band, as evinced on the concert closer "School's Out".
It's curious as well to hear how Alice and the band sounds pretty close to KISS at the time, and this recording, although a FM broadcast, brings to mind "Alive II".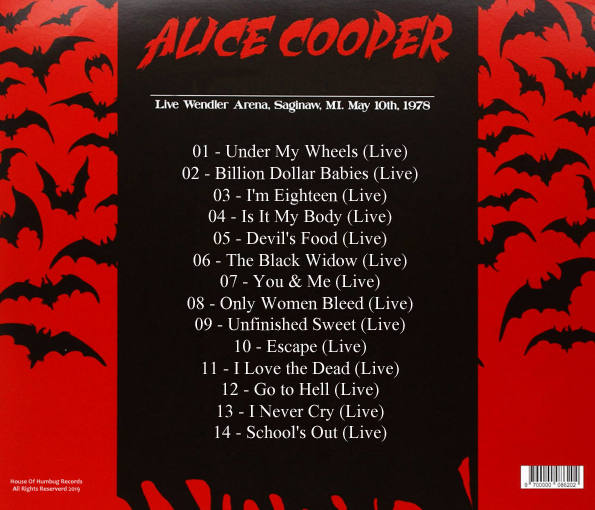 Cooper was smart enough to feature here mostly older hits in the show, and the audience is audibly glad to hear it. Highlights include "Under My Wheels," "Eighteen" and the always amusing "Is It My Body?".
Sound quality of the tapes is very good for the era, benefited by a fresh remastering.
Strongly Recommended
01 – Under My Wheels (Live)
02 – Billion Dollar Babies (Live)
03 – I'm Eighteen (Live)
04 – Is It My Body (Live)
05 – Devil's Food (Live)
06 – The Black Widow (Live)
07 – You & Me (Live)
08 – Only Women Bleed (Live)
09 – Unfinished Sweet (Live)
10 – Escape (Live)
11 – I Love the Dead (Live)
12 – Go to Hell (Live)
13 – I Never Cry (Live)
14 – School's Out (Live)
Alice Cooper – lead vocals
Steve Hunter – guitar, vocals
Jefferson Kewley – guitar
Dee Murray – bass
Fred Mandel – keyboards
Dennis Conway – drums
BUY IT !
www.amazon.co.uk/gp/product/B07Q3SG569
.