KIX – Blow My Fuse [Rock Candy remaster] full retail
Coinciding with their return and a fresh album in two decades just released, Rock Candy Records are reissuing / remastering KIX's most celebrated records from '80s: 'Blow My Fuse' and 'Midnight Dynamite'.
By the time Kix had recorded "Blow My Fuse", their fourth album, all eyes in the hard rock biospace were upon them as a band expected to rise up from the ranks to achieve success and exert influence.
Certainly their record label Atlantic Records believed in the band enough to steer them towards not one, but three top notch producers; that's Tom Werman (Mötley Crüe, Twisted Sister, Dokken) together with the dynamic duo of Duane Barron and John Purdell (Ozzy Osbourne, Dream Theater).
Recorded in Los Angeles and issued in August 1988, the record was immediately heralded as the best Kix album so far, with critics pointing out the quality of songs and a refinement of their trademark rough and tumble sound. In addition they had made a significant change in their back office by enlisting new management who also handled the affairs of Twisted Sister and Zebra, both signed to Atlantic Records.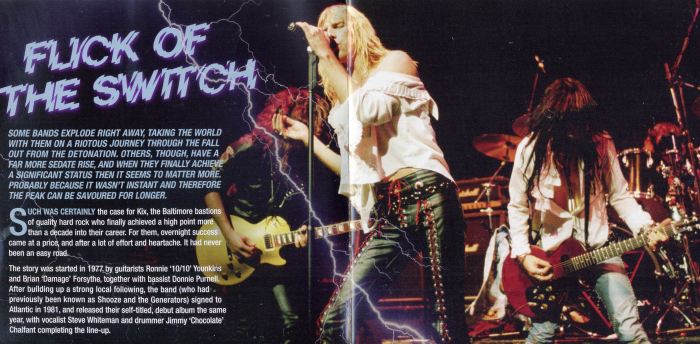 Strangely, the record was slow to react commercially, dragging its feet until the label were persuaded to issue the Bob Halligan Jr. co-write "Don't Close Your Eyes" as a single to radio.
This enduring power ballad became an instant smash, rising to #8 on the Billboard singles chart and paving the way for over a million sales of the album, whilst drawing attention to notable album tracks such as "Red Lite, Green Lite, TNT", "Get It While It's Hot" and "She Dropped Me The Bomb".
All these cuts were much more melodic hard rock oriented than any material previously released by Kix, positioning the band in the same league of Warrant, Stryper, Autograph, etc.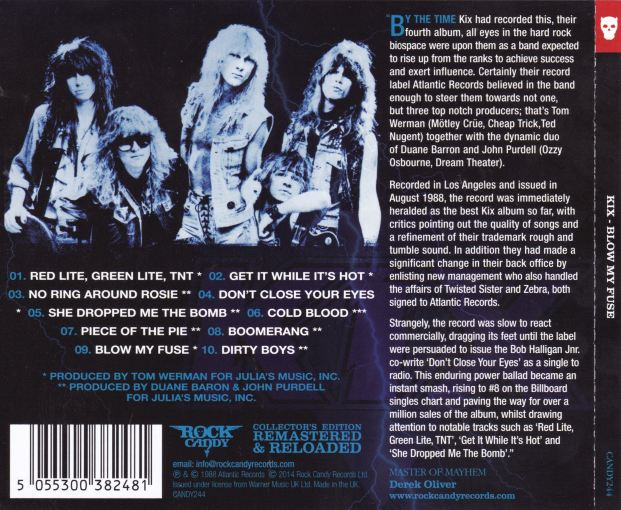 "Blow My Fuse" is the more 'commercial', glossy recording of Kix, another fine slice of the Californian Melodic Hard Rock movement that ruled the US in the second half of the '80s.
Compared to the original CD release, this Rock Candy remaster of "Blow My Fuse" is a bit tougher. I don't really have an issue with the original pressing, and this new version doesn't add quite as much as the Midnight Dynamite remaster does.
Yes, there is better bass response but not anything the volume knob can't fix on the original. There is a little more ooomph to the guitars too. So it's really up to you as a fan if you want to hear the slight improvements.
But this reissue worth the purchase because there isn't a shred of brickwalling; all sounds natural and bright.
Highly Recommended.
01 – Red Lite, Green Lite, TNT
02 – Get It While It's Hot
03 – No Ring Around Rosie
04 – Don't Close Your Eyes
05 – She Dropped Me The Bomb
06 – Cold Blood
07 – Piece Of The Pie
08 – Boomerang
09 – Blow My Fuse
10 – Dirty Boys
Steve Whiteman – lead vocals, harmonica
Ronnie '10/10′ Younkins – guitars
Brian 'Damage' Forsythe – guitars
Donnie Purnell – bass, keyboards, backing vocals
Jimmy 'Chocolate' Chalfant – drums, percussion, backing vocals
BUY IT !
www.nehrecords.com/product/kix-blow-my-fuse/
.