NINE-T-NINE – Time And Water (2019)
Hailing from Northern Germany NINE-T-NINE was founded in 1999 – where their name was taken – and put out their debut album ten years after. Now, ten years after again, the band is releasing today "Time And Water", the band's brand new CD.
NINE-T-NINE is influenced by timeless American AOR from all eras, with a Melodic Rock foundation. There's 2 vocalists, lots of harmony vocals, and a classic rock feeling as well here and there.
This is a varied album, and among the most interesting tunes there's opener "Long Way", a rocking tune driven by a strong riff, nice keys in the background, and cool vocals.
"Give It Up (Heart Over Mind)" stars with a nice piano / string arrangement, then it gives room for solid AORish verses and a fine guitar work for an anthemic number. "Can't Pay for Love" rocks with a melodic pulse, while "Take Me Away" is very Americanized circa 1990, rocking in its essence.
"Midnight" delivers more good uptempo catchy AOR, again with the guitar very upfront. Among the ballads, "Just When I Met You" is the best for me, midtempo and with good atmosphere.
A song titled "Heat of the Night" brings to mind 1984, and musically indeed the song has that 'soundtrack' feel.
For the end the band has re-recorded an old song "Light My Life (2019)", another effective melodic rocker with complete instrumentation, sweet keys and a melodious solo. Very good track.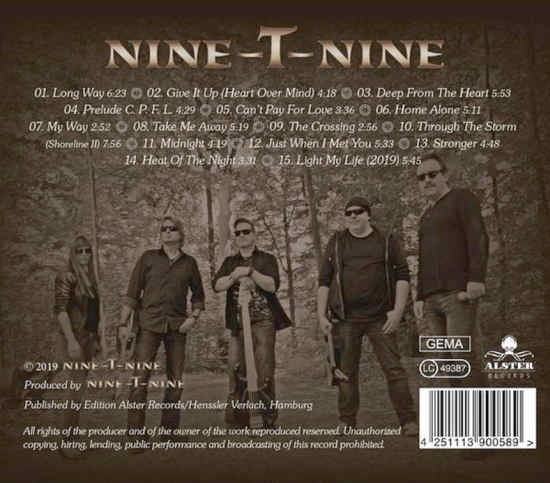 On the album cover – inside the clock – you can read the latin sentence "Contra omnes obstantia", which means "Against all obstacles". And against all the obstacles – line-up changes, management troubles, etc – ater ten years Nine-T-Nine has recorded a timelessly beautiful AOR album.
It's arena rock / melodic rock / AOR in the American style, akin Pride Of Lions, Two Fires, '80s Meat Loaf, etc. Of course these German are not in the same league of these mentioned giants, but they're damn good composing songs and recording / producing their music with a clear quality sound.
Highly Recommended
01 – Long Way
02 – Give It up (Heart over Mind)
03 – Deep from the Heart
04 – Prelude C. P. F. L.
05 – Can't Pay for Love
06 – Home Alone
07 – My Way
08 – Take Me Away
09 – The Crossing
10 – Through the Storm (Shoreline, Pt. 2)
11 – Midnight
12 – Just When I Met You
13 – Stronger
14 – Heat of the Night
15 – Light My Life (2019)
Corina Elvers – Vocals
Sharky – Vocals
Markus Kuhn – Drums
Carsten Schulz – Bass
Oliver Sztukowski – Guitars, Vocals, Keyboards
Stefan Theil – Lead Guitar
BUY IT
www.buecher.de/shop/musik/time-and-water/nine-t-nine/products_products/detail/prod_id/57567938/