CRASHDIET – Illegal Rarities, Volume 1 (2014)
Swedes CRASHDIET released some time ago "Illegal Rarities, Volume 1", containing the original first pre-production demo by the band featuring late singer Dave Lepard. These tracks have been hiding in the Crashdiet vaults for over 10 years and finally they have once again resurfaced.
This is a Scandinavian-only release limited to 999 copies and it's only available at Crashdiet online store, however looks sold out now..
Crashdiet was originally formed in 2000. Taking influence from Kiss, Mötley Crüe, Skid Row, Guns N' Roses, and Hanoi Rocks, Crashdïet built up a cult following with the release of their first demos.
In 2002 the band split up, and vocalist Dave Lepard reformed the group bringing guitarist Martin Sweet, both started writing new songs and recorded this, the first self-titled EP appeared in 2003 from which only 500 copies were pressed.
In 2004 they got signed to Universal Records and the rest is history…
"Illegal Rarities, Volume 1" is a great look into what Crashdiet was before their 1st album with a major label, showcasing the raw power the band possessed at the time.
This is especially noticeable in a song that's already familiar, "Queen Obscene". This original version is so sleaze and dirt that it just had to be heard!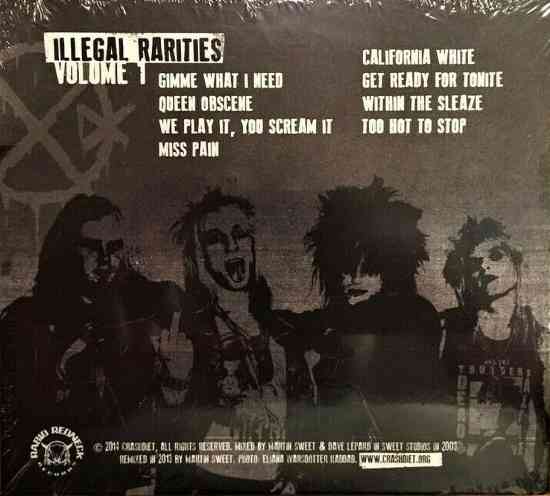 The other songs are quite good as well, including 3 tracks as bonus not present on the original EP. I'm surprised that most of these songs never made it to a studio album.
Sonically enhanced and remixed by guitarist Martin Sweet, "Illegal Rarities, Volume 1" is limited to 999 copies on CD and it's only available at crashdiet.org online store.
Highly Recommended
01 – Gimme What I Need
02 – Queen Obscene
03 – We Play It, You Scream It
04 – Miss Pain
05 – California White
06 – Get Ready For Tonite (Bonus Track)
07 – Within The Sleaze (Bonus Track)
08 – Too Hot To Stop (Bonus Track)
Dave Lepard – vocals, guitar
Martin Sweet – guitar
Peter London – bass
Eric Young – drums
TRY HERE:
www.dietrecords.org/shop/illegal-rarities-volume-1.html
.