RIVERDOGS – Riverdogs + On Air [Bad Reputation 2-CD Remastered version] *EXCLUSIVE*
Some time ago we featured here RIVERDOGS's self-titled album in its 2-CD remastered reissue by Rock Candy. Now one of you requested the own remaster by Bad Reputation Records specialists. Released on a double package as well, Bad Reputation's remastering job is quite different, less 'louder' and more 'vinyl LP' focused. While both remastered reissues are very good, I prefer this one, overall more 'natural' to my ears.
Regarded by many as the best album ever recorded by talented guitarist Vivian Campbell, the self-titled debut by Riverdogs mix like few melodic rock waves with a classic rock feel.
Following an introduction to guitarist Vivian Campbell – at the moment ex- DIO and Whitesnake – he agreed to produce Riverdogs' first demo. Vivian was so impressed by their talent, he joined the band for their debut-album, released on Epic Records in 1990.
Soon after, drummer Marc Danzeisen joined the band to complete the line-up, but the drums on the record were done by excellent session cat Mike Baird.
Riverdogs born in Los Angeles at a time when hair-metal was king, but were determined to avoid clichés, adopting a bluesy melodic rock style where restraint was central and excess frowned upon.
Naturally Vivian Campbell played an influential part in fashioning the musical palate but both bassist Nick Brophy and vocalist Rob Lamothe also attracted immediate attention.
Brophy is a great guitarist as well, so his bass playing is much more than just 'fills', it's complex and organic, sounding rock steady with excellent runs showcasing each song. A real 'bass guitar' work.
And you have the soulful vocals of Rob Lamothe. He delivers as much grit, emotion and power into these songs as you would ever want. Put him up there with Lou Gramm, Kelly Keeling or Paul Rodgers.
He was virtually unknown before the release of this album, and as good as the album is, the name Lamothe will still get you far more blank stares than smiles of recognition. Warm, commanding and instantly identifiable, Lamothe's voice didn't rely on meaningless bombast to get noticed.
Tracks like "Baby Blue", "I Believe", "Whisper" and the awesome "Water From The Moon" are superb.
Produced by Michael Frondelli (Kiss, Rolling Stones) and polished by Jeff Glixman (Gary Moore, Kansas) "Riverdogs" was greeted with universal acclaim but any hopes of hitting the big time were immediately extinguished when their label president was fired and a new regime installed showing zero excitement amongst the new team. It was a devastating blow and one that they never recovered from.
Campbell joined Def Leppard, Rob Lamothe pursued a solo career, and Marc Danzeisen went on to play drums with Little Caesar and Gilby Clarke. Nick Brophy become a respected engineer and producer, working with artists like Rolling Stones, Avril Levine, Hootie and the Blowfish, etc.
Anyway, Riverdogs still gets together to play for fun and eventually record new songs.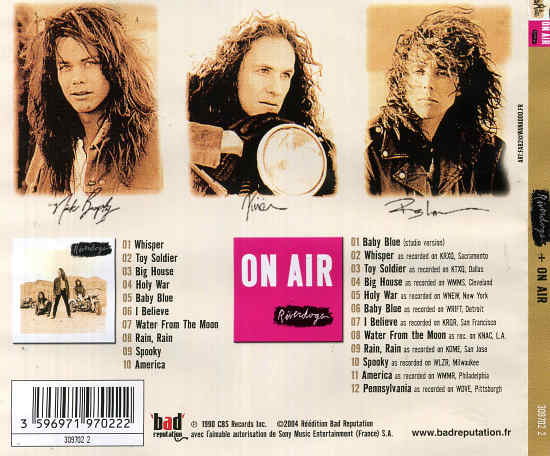 "Riverdogs" is one of the most overlooked records of all time, and a terrific piece of organic melodic rock. There's not a weak song on the disc and Vivian's guitar work is some of the best I've ever heard from his gifted fingers.
As said, it's a matter of taste, but I prefer this Bad Reputation remaster (quite expensive right now) over the Rock Candy.
And we have the bonus CD 'On Air' as well featuring all the songs from the main album acoustically re-worked , recorded at different Radio Stations while promoting the album plus the non album track 'Pennsylvania' (previously unreleased), and adding the studio version of 'Baby Blue' starting the CD, as happened on the 1990-91 original edition.
HIGHLY RECOMMENDED
Only at 0dayrox
CD 1 : Riverdogs Bad Reputation remaster
01 – Whisper
02 – Toy Soldier
03 – Big House
04 – Holy War
05 – Baby Blue
06 – I Believe
07 – Water From The Moon
08 – Rain, Rain
09 – Spooky
10 – America
CD 2 : On Air Bad Reputation remaster
01 – Baby Blue (Studio version)
02 – Whisper (recorded on KRXQ, Sacramento)
03 – Toy Soldier (recorded on KTXQ, Dallas)
04 – Big House (recorded on WMMS, Cleveland)
05 – Holy War (recorded on WNEW, New York)
06 – Baby Blue (recorded on WRIF, Detroit)
07 – I Believe (recorded on KRQR, San Francisco)
08 – Water From The Moon (recorded on KNAC, Los Angeles)
09 – Rain, Rain (recorded on KOME, San Jose)
10 – Spooky (recorded on WLZR, Milwaukee)
11 – America (recorded on WMMR, Philadelphia)
12 – Pennsylvania (recorded on WDVE, Pittsburgh) [non album track]
Rob Lamothe – vocals, guitars and keyboards
Vivian Campbell – guitars and vocals
Nick Brophy – bass and vocals
Mike Baird – drums
additional musicians:
Allen DeSilva – drums (10)
Kevin Gilbert – keyboards (10)
BUY IT
badreputation.fr/Shops/box28314/Products/309702-2
www.amazon.de/Riverdogs-Air-RIVERDOGS/dp/B01JT898Y2