ROBERT TEPPER – Better Than The Rest (2019)
Hailing from Bayonne, New Jersey, ROBERT TEPPER hit it big with song 'No Easy Way Out' prominently featured in the film franchise Rocky. Stallone, a Tepper fan, used his song 'Angel Of The City' in his classic movie Cobra giving Tepper the title of 'the soundtrack kid'. Also, Pat Benatar's recording of 'La Bel Age' off of 'Seven The Hard Way' was another Tepper composition. Some years ago, while touring Europe, Tepper met guitarist extraordinaire Pablo Padilla, one of the premier axeman in Spain. He became Tepper's music supervisor for all of his shows.
Hence, the new Robert Tepper album "Better Than The Rest" to be released tomorrow by AOR Heaven is a true collaboration between Tepper and Padilla. The writing, recording and mixing of this album took approximately a year, at various studio facilities.
'Better Than The Rest' may be seen to be an ambitious, and possibly pretentious title, but when, after nearly 50 years in the business, you can still deliver a collection of songs of the extremely high quality demonstrated here, and with a voice that is still capable of curling the hairs on the back of your neck, then it is one which can be fully justified.
As one would expect, each of the 11 songs is beautifully crafted, all following the classic path of verse, verse, catchy chorus, interlude, guitar solo… and that is why they all work.
'Why Does Over (Have To Be So Sad)' opens the album off in style. There's hints of Toto in the sound which shows Tepper in fine vocal form. A couple of songs like 'My Yesterday' would be movie soundtrack hits back in the day, whilst 'Show Me Where The Light Is Going' comes across like prime time Night Ranger.
Padilla weaves his guitar throughout the album, nothing overly heavy more along the lines of the deft touch of Steve Lukather.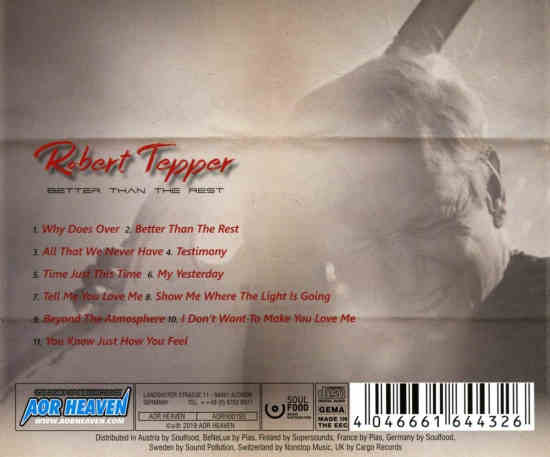 Each and every one of these songs would sit proudly on any AOR album you care to name, which in itself is a testimony to their creator's own craftmanship and pedigree.
From such an experienced and successful songwriter you'd expect a classy release and that is what you get with 'Better Than The Rest'.
One for those who like their 80s influenced / action movie AOR.
Perhaps the 'comeback album' of the year… HIGHLY RECOMMENDED
1. Why Does Over
2. Better Than The Rest
3. All That We Never Have
4. Testimony
5. Time Just This Time
6. My Yesterday
7. Tell Me You Love Me
8. Show Me Where The Light Is Going
9. Beyond The Atmosphere
10. I Don't Want To Make You Love Me
11. You Know Just How You Feel
Robert Tepper – vocals. keyboards
Pablo Padilla – guitar, bass
Pre Order:
www.amazon.co.uk/Better-Than-Rest-Robert-Tepper/dp/B07VQ9Z136