CORELEONI – CoreLeoni II (2019)
He is one of the truest and most passionate Rock musicians of the last decades. And though time stood never still for Gotthard founding member and guitarist Leo Leoni. CORELEONI he named his passion for big, timeless Hard Rock, added with a modern sound. On September 27th their second album "CoreLeoni II" will be released. We have here new versions of Gotthard songs from the early stage as well as two brand new tracks, plus a cover of John Lee Hookers "Boom Boom Boom". Together with Rainbow-singer and Lords Of The Black founding member Ronnie Romero, Hena Habegger (drums, Gotthard), Jgor Gianola (guitar, ex-Gotthard, U.D.O., Jorn Lande) as well as Mila Merker (bass, Soulline) Leoni shows, that Classic Rock is alive an kickin' 2019.
Gotthard guitarist Leo Leoni is a restless mind with Rock'n'roll being the fuel. A lot of his time and energy are channeled towards Gotthard, his main band. Next to the mothership Leoni was part of the 2018 Rock Meets Classic tour and with CoreLeoni he has a rather new and still not new outfit in place.
The story of Gotthard is a successful one with many records being out in the market and huge tours that have been played too. Gotthard began as a Hard Rock band back in 1990 and overtime their sound shift more toward Rock that's sometimes a bit harder. The shift was like changing gears in the sense of commercial success by reaching even more fans. The spirit of Rock'n'roll, which was the starting point went further to the back.
Many of these early Gotthard songs don't make it anymore on the band live setlists and it was Leoni that gave these hymns a new life being re-recorded in a Classic Rock spirit and supported by modern technical possibilities, leading to an album called 'The Greatest Hits Part 1'. The album was received very well and successful shows acted as a motivator to continue this endeavor.
"CoreLeoni II" features songs like 'Standing in the Light', 'Open Fire', 'Mountain Mama' and more. 'Make My Day' comes originally from the 'G' album with the main focus being still on the first two longplayers. Each of these revitalized Gotthard anthems fires on all cylinders, a Hard Rock feast for sure. I'm tempted to say that these versions are equally good as the originals.
However, what's even more exciting is the fact that two new songs made it on the tracklist: 'Queen of Hearts' (strong Whitesnake vibe) and 'Don't Get Me Wrong' are terrific Hard Rock tunes fueled by powerful chords, great vocals and a pumping rhythm section adding a lot of drive to these songs.
Having listened to the tracks more than once brings up the question why there's not more new material on the album. It can't be a quality issue. Hopefully the next long player, if there will be one, is mainly about new songs, which would be exciting to listen to.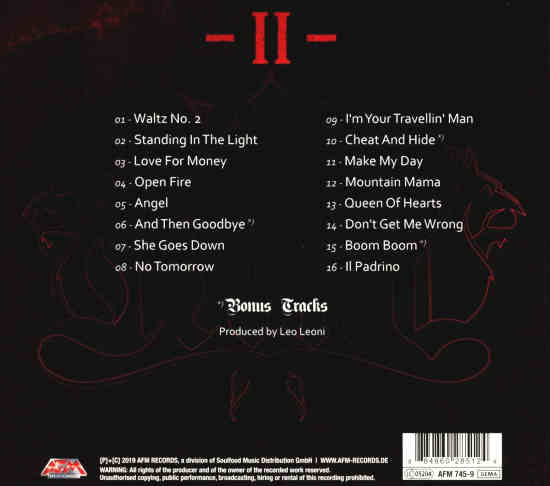 'II' is a great album, reflecting the early Gotthard spirit in a new context. Each of the songs rocks and has enough edge to distinguish itself from the originals.
Very good re-works that will make you smile and get your head nodding – and that's true talent.
Highly Recommended
1. Waltz No. 2 (Dmitri Shostakovich cover)
2. Standing In The Light (Gotthard cover)
3. Love For Money (Gotthard cover)
4. Open Fire (Gotthard cover)
5. Angel (Gotthard cover)
6. And Then Goodbye (bonus track, Gotthard cover)*
7. She Goes Down (Gotthard cover)
8. No Tomorrow (Gotthard cover)
9. I'm Your Travellin' Man (Gotthard cover)
10. Cheat And Hide (bonus track, Gotthard cover)*
11. Make My Day (Gotthard cover)
12. Mountain Mama (Gotthard cover)
13. Queen Of Hearts – new song
14. Don't Get Me Wrong – new song
15. Boom Boom Boom (bonus track, John Lee Hooker cover)*
16. Il Padrino (Nino Rota cover)
* bonus tracks
Ronnie Romero (v)
Leo Leoni (g)
Jgor Gianola (g)
Mila Merker (b)
Hena Habegger (d)
Pre Order:
www.amazon.co.uk/Ii-Ltd-Digipak-Coreleoni/dp/B07VTY4YLJ