BAD BOY – Back To Back [Rock Candy remastered & reloaded]
"Back To Back" is the second album from Milwaukee's very own BAD BOY, fully remastered and officially released for the first time on CD courtesy of Rock Candy Records.
There's no doubt that the Seventies were a golden time for blues infused rock, but it was also a period where the competition for attention was cut throat. Sure, if an act caught a wave of approval then the sky was the limit, for the majority of bands, however, it was a struggle to keep afloat, despite the fact that regional radio play and venues were plentiful and welcoming.
For Milwaukee, Wisconsin based four piece Bad Boy the odds were stacked against them, even though they had secured a coveted record deal with the United Artists label and had already gained a foothold with a well received debut album.
Stepping back into the studio they were a far more worldly wise team, and they crafted a record that sat easily beside master craftsmen of the era such as Aerosmith, Derringer, Cheap Trick and Kiss.
Originally issued in 1978, "Back To Back" made for solid listening, focusing on melodic catchy songs with rock solid riffs. 'It's Alright' is a powerful opening song, with a sound reminiscent of early Trooper.
Tracks such as 'I Just Wanna Love You' and the poppy-funk infused 'Keep It Up' leave no stone unturned in their quest to impress.
But the big winners here are the riff-tastic 'No Stopping Me Now', easily the heaviest track here with a sleazy guitar tone to die for, and 'Take My Soul / Out Of Control', a near eight minute epic of the highest grade with terrific atmospheres.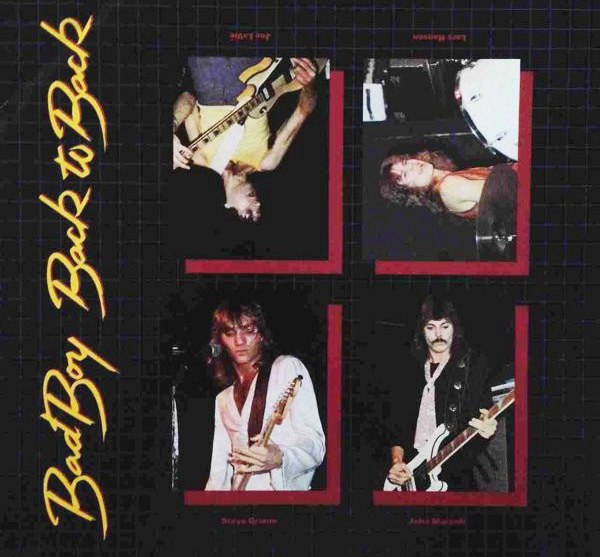 With a regional following remaining forever loyal, BAD BOY were hamstrung by a label that was focusing on lighter fare, leaving them to pursue their quest for success independently whilst continuing to cultivate a solid legacy.
"Back To Back" is an improvement over the band's debut, featuring more focused songwriting, a harder sound and more direct melodic hooks.
Simple yet effective US hard / melodic rock.
Highly Recommended
01 – It's All Right
02 – Always Come Back
03 – Accidental
04 – Girls Girls Girls
05 – Keep It Up
06 – I Just Wanna Love You
07 – No Stopping Me Now
08 – Rock and Roll Blood
09 – Take My Soul (Rock and Roll) / Out of Control
Lead Vocals, Guitar – Steve Grimm
Keyboards, Vocals – Joe Luchessi
Bass, Vocals – John Marcelli
Drums, Percussion – Lars Hansen
BUY IT
www.amazon.co.uk/Back-Bad-Boy/dp/B01KVSSVLU