TIMECOP1983 – Night Drive +2 (2018)
As you may know, retro synthwave music is one of the guilty pleasures of this blog. After the excellent new album from TIMECOP1983 featured here few days ago, many of you asked for his debut "Night Drive", including two bonus tracks.
We've been following TIMECOP1983 singles and EPs from several years now, and we can say "Night Drive" was the culmination, the full circle into the first LP from this talented Dutch musician.
TIMECOP1983, otherwise known as Jordy Leenaerts, had been making music since he was 12 with music-making program Scream Tracker, a DOS-based software a friend had showed him, and of course, later, synthesizers.
He is not strange to this blog anyway, as he featured as guest on the last THE MIDNIGHT album, a personal favorite.
THE MIDNIGHT returns the favor here contributing vocals and instrumentation in "Night Drive" opener track 'Static', a wonderful midtempo AORish tune with true '80s feel.
This is one of the things that made this TIMECOP1983 new album so good: finally he has most the songs with vocals, and now, with his cinematic, at places melancholic synth melodies, it's the complete package.
But wait there's more: this blog's amazing discovery called LeBROCK are also contributing vocals and guitars on the track 'Too Late'. And you can tell their presence: this is a synth/AOR winner.
Other talented synthwave artists are providing lead vocals, each on one song, like newcomers (and very promising) THE BAD DREAMERS (album in the making), singer JOSH DALLY on the fantastic 'Neon Lights' (a highlight on the album), and female KINNIE LANE in 'Tokyo', recalling the lovely KRISTINE.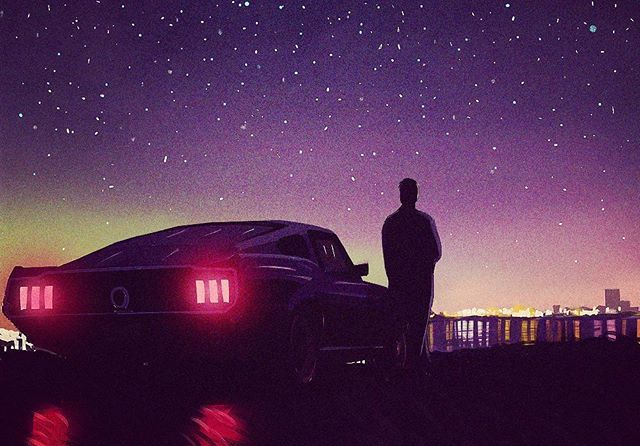 Timecop1983 new album "Night Drive" is a serious contender for 'album of the year' in the retro synthwave scene, and if you liked our features here of LeBrock and The Midnight, you need to check TIMECOP1983 now; excellent melodies, superb vocals and yeah; true '80s vibe all over.
Make you day better: listen to TIMECOP1983 new album "Night Drive", thank me later…
HIGHLY RECOMMENDED
You've seen it first here, at 0dayrox
01 – Static (feat. The Midnight)
02 – On the Run
03 – Back to You (feat. The Bad Dreamers)
04 – Cruise
05 – Neon Lights (feat. Josh Dally)
06 – Afterglow
07 – Too Late (feat. LeBrock)
08 – Skylines
09 – Tokyo (feat. Kinnie Lane)
10 – Nightfall
11 – It Was Only a Dream
BONUS TRACKS:
12 – Static (Instrumental)
13 – Too Late (Instrumental)
Jordy Leenaerts (Timecop1983): synths, programming
Shaun Phillips (LeBrock): vocals
Michael Meadows (LeBrock): guitar
Tim McEwan / Tyler Lyle (The Midnight): vocals
The Bad Dreamers: vocals
Josh Dally: vocals
Kinnie Lane: vocals
BUY IT
www.amazon.com/Night-Drive-Timecop1983/dp/B07CGS749D