COBRA (Jimi Jamison) – First Strike [Rock Candy Remastered & Reloaded] HQ
After all the '80s Survivor material featured here, I think it is necessary to complete the circle with an album strongly related to this incredible US Melodic Rock band; "First Strike" by COBRA featuring future Survivor vocalist Jimi Jamison. This Rock Candy remaster is pure gold, officially for the first time on CD with a fantastic sonic treatment.
The difference between achieving success and failing can be down to the most tenuous of reasons. For Cobra the early signs were better than most.
They wrote great songs, were fronted by a world class vocalist in Jimi Jamison (later to join Survivor), had first class management (Butch Stone) holding the business reigns and, best of all, the colossal firepower of Epic Records right behind them.
Inexplicably, however, the record failed to connect mostly due to the label lack of promotion, taking the wind out of their sails and forcing an early retreat into the file marked 'strictly for connoisseurs'.
Although based in Memphis (by way of Switzerland) the band was truly an international collaboration featuring three Americans and two Swiss renegades; Mandy Meyer (from Krokus) and Tommy Keiser (who would also go on to play with Krokus). The Memphis contingent also had some serious form; Jimi Jamison having fronted A&M signed rockers Target and guitarist / keyboard player Jack Holder, a Memphis legend having seen active duty as a member of Black Oak Arkansas amongst many other accomplishments.
Together with super-fit drummer Jeff Klaven, the band constructed a stunning, but melodic, hard rock sound that has not dated one jot.
Originally issued in 1983 and produced by 'Colonel' Tom Allom (Judas Priest, Def Leppard, etc), "First Strike" remains one of the best and certainly one of the most criminally overlooked albums of the era.
Cobra rocks out hard on 'Blood On Your Money', 'Only You Can Rock Me' or 'Danger Zone' but are also capable of delivering a great ballad such as 'Looking At You', a real gem.
My personal highlight is the epic 'Travelin' Man', which alternates between brooding tension and glorious release as it explodes into an anthemic chorus.
Not surprisingly, 'Travelin' Man' as well 'Looking At You' were later covered by Gotthard, when guitarist Mandy Meyer was a member of the band since the late '90s.
A proof of Cobra's stupendous musicianship is the pedigree of all involved and their subsequent success.
After concerts in the US (including slots with Quiet Riot, Nazareth and Krokus) Jimi Jamison received the offer to replace Dave Bickler at Survivor, and to record Survivor's magnum opus Vital Signs achieving world-wide stardom.
Soon as Cobra disbanded, Mandy Meyer was called by super-group Asia to replace Steve Howe, touring the world and recording the band's strong album Astra. Meyer later re-joined Krokus, later Gotthard, and now is part of the great German band Unisonic, while rhythm section of Jeff Klaven & Tommy Keiser became part of '80s Krokus.
Additionally, in 1985 on their superb classic AOR self-titled album, Van Zant recorded the song 'I'm A Fighter' which was written by Meyer & Jamison and originally planned for the second Cobra album that never was.
Frankly, these guys had it all: great songs, excellent musicianship (Mandy's melodic guitar playing is very much Schenker influenced throughout), and a signature voice in Jimi Jamison that really 'strikes' a chord. Cobra's "First Strike" may be the band's one and only album, but what a corker.
This is a guitar driven stuff with a hard rock essence yet plenty of melody, featuring complementary keyboards and up-front rhythm section but clearly not the flamboyant style of bass/drumming that would become popular in the following years endorsed by melodic hard rock groups.
"First Strike" sports a classic sound all over, a mix like '81 Journey, Foreigner, UFO and Survivor.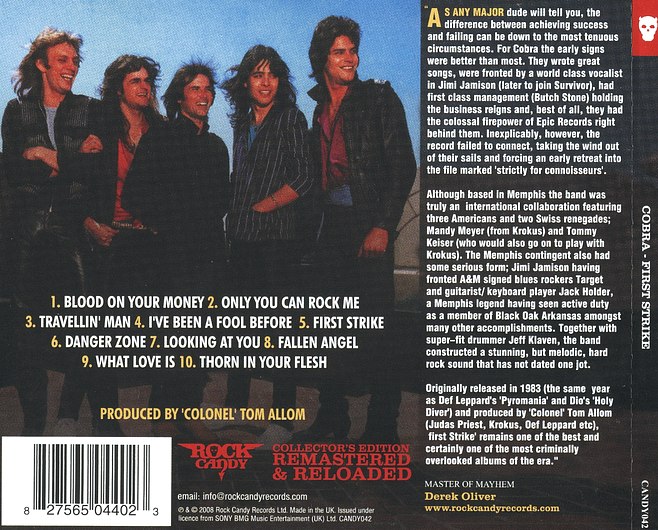 This is a great Rock Candy 24-bit remastering from original source tapes, with a really interesting 4,000 word story of the making of the album by Dave Cockett and exclusive interview with Jimi Jamison, plus previously unpublished photos supplied by bass player Tommy Keiser, all spread out over a super 12 page full color booklet.
Highly Recommended
01 – Blood On Your Money
02 – Only You Can Rock Me
03 – Travelin' Man
04 – I've Been A Fool Before
05 – First Strike
06 – Danger Zone
07 – Looking At You
08 – Fallen Angel
09 – What Love Is
10 – Thorn In Your Flesh
Jimi Jamison (vocals)
Mandy Meyer (guitar)
Jack Holder (guitar)
Tommy Keiser (bass)
Jeff Klaven (drums)
BUY IT
metalmailorder.com/de/cobra-first-strike.html