STEELHOUSE LANE – Slaves Of The New World + Metallic Blue [Escape Music 2-CD Remastered] HQ *Exclusive*
As requested, here's a must have in your Melodic Hard Rock collection: the remastered reissue of STEELHOUSE LANE two albums, "Slaves Of The New World + Metallic Blue" in its Escape Music 2-CD Digipak including a bonus track.
Steelhouse Lane was the '90s own band / project of uber talented songwriter / producer Mike Slamer, the man behind AOR legends Streets, City Boy and many more, but not only that, he has written a fantastic bunch of songs for other artists which are part of the 'soundtrack history' of your life.
On both Steelhouse Lane albums, Slamer collected some of those tunes to do his original interpretations, plus many newly written songs. Add to that Michael Schenker Group vocalist Keith Slack, top musician / producer Chris Lane, and the legendary Chris Thompson on backing vocals / songwriting, and you have a real winner.
'Metallic Blue' is Steelhouse Lane's first effort, which begins with the title track
recorded by House Of Lords on the album 'Demons Down', co-written with James Christian. Slightly different, and a few keyboards added, but just as big and just as rocking.
'Surrender' is a classic rockin' AOR tune plenty of '80s magic, followed by 'Addicted', a track that has been previously recorded by the awesome band Wall Of Silence. What a killer tune this is. A chorus to die for, big heavy guitar, keyboard runs and vocals layered deep. Terrific.
A perfect melodic hard rock / AOR trifecta to start the CD.
Another reprised track, the Slamer co-written 'Dr. Love' is the Steelhouse Lane version of the Hardline classic, which to me, is unbeatable. Still, a great song is always a great song, and Keith Slack has a superb voice and manages to make the track sound as menacing as the original.
'Still' is a superb AOR anthem, with all the essential ingredients. One of the album's smoother tracks. 'Find My Way' is another class song, a big AOR ballad with a great vocal performance. The chorus will rate as an all time classic given time.
'Best Years Of My Life' is a slower ballad, one original for this album, 'Fire With Fire' a high class AOR anthem, 'Can't Fight Love' is another tune from the House Of Lords 'Demos Down' album. All fabulous.
'Feel My Love' is mid-paced rocker with a rocking chorus, some nice 'ohh, ohhing' and big harmonies throughout.
The album is rounded off with 'Brighter Day' (co-penned with Tom DeLuca), previously recorded by James Christian for his solo LP.
"…Slaves Of The New World" is the second Steelhouse Lane album, and if the first is tremendous, this one is several steps above, a stairway to Melodic Hard Rock heaven.
Opening the album is 'Give It All To Me', the first of the Keith Slack / Mike Slamer newly written songs. It's pretty evident from the outset that the duo perfectly glued since the first album, the production value has increased markedly and the sound has tightened also.
Keith Slack has a harder edge to his voice this time around and the guitar is more prominent in the mix.
'Find What We're Looking For' has a more melodic slant to it's intro, with a monster guitar hook. It has a heavy and majorly melodic bridge / chorus and some huge harmony vocals. There is several layers to the track and a great solo to finish the song.
'Son Of A Loaded Gun' has two sides to it. The softly sung and performed verse and the explosive Hardline / House Of Lords chorus. The song overall is midpaced – neither a ballad or a rocker. Just a strong slow to midtempo melodic rock song.
'Turn Around' sees more technical guitar work in the style of early Asia or Steve Lukather / Toto at their best. Another soft verse that builds to a big AOR chorus that continues to grow and is one hell of a catchy ballad.
Then title track 'Slaves Of The New World' is insane. The intro is hard n' rockin'. A furious song with an early '90s feel co-written with Chris Thompson, who also contributes harmony vocals all over the record. The song chops and changes pace and style, has another mammoth guitar solo and as for the chorus – it's heavy, fast and out there! It's generally not representative of the rest of the album style wise, although you will certainly hear the great production sound.
'All I Believe In' is one of the best ballads I have heard in years and the best Steelhouse Lane ballad so far. The intro runs a couple of minutes through a slow guitar solo similar to Neal Schon's approach on his Late Nite solo album. The song builds to a wonderful chorus of soaring vocals and harmonies.
'Into Deep' heads back into rocker mode. A very enjoyable guitar driven song with some great vocals and more harmonies come chorus time. A little more Hardline influence.
'The Nightmare Begins' is another slightly different and very cool track. The intro is a strong blend of guitar and keyboards and is a little progressive in it's arrangement.
'Where Are You Now' rocks out and contains some awesome guitar licks from Slamer. A quite elabotared number, but it is sure as hell above your average AOR album standard.
'All Or Nothin' is another classic Slammin' AOR tune (get it?). Big harmonies and chorus. A midtempo and somewhat darker verse leads into that big chorus.
'Seven Seas' is an absolute killer, and one of my favorite Slamer song ever. A classic AOR anthem. Big chorus, big vocals, big harmonies and matches any great song from any era of AOR / melodic hard rock music.
Then there's the original Japanese edition bonus track, 'If Love Should Go', one of the best Steelhouse Lane songs and a shame it wasn't included into the world wide release. It's a guitar driven tune, but has a more easy going approach. A 'pure' melodic rock track to die for with another AOR harmony filled chorus of the highest order.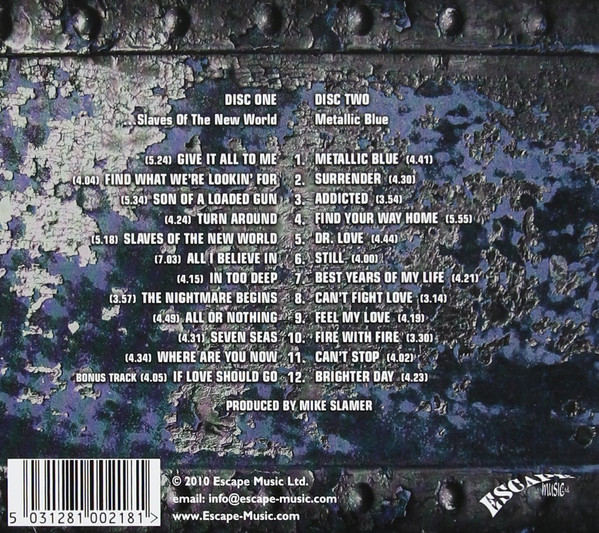 Steelhouse Lane was one of the greatest Melodic Hard Rock / AOR acts of all time. Both albums are terrific, faultless, awesome from every corner.
A double pack of big time guitar driven stadium rock / AOR and anthems galore wrapped by a fantastic bright, punchy, crystal clear production. This is what these musical genres are all about, the kind of stuff legends are made of.
Need to say more?
MANDATORY
0dayrox Exclusive
…Slaves Of The New World [24-Bit Remaster]
01 – Give It All To Me
02 – Find What We're Lookin' For
03 – Son Of A Loaded Gun
04 – Turn Around
05 – Slaves Of The New World
06 – All I Believe In
07 – In Too Deep
08 – The Nightmare Begins
09 – All Or Nothing
10 – Seven Seas
11 – Where Are You Now
12 – If Love Should Go [Bonus Track]
Metallic Blue [24-Bit Remaster]
01 – Metallic Blue
02 – Surrender
03 – Addicted
04 – Find Your Way Home
05 – Dr. Love
06 – Still
07 – Best Years Of My Life
08 – Can't Fight Love
09 – Feel My Love
10 – Fire With Fire
11 – Can't Stop
12 – Brighter Day
Mike Slamer – guitars, keyboards, bass
Keith Slack – lead and backing vocals
Alan Hearn – bass
Dewayne Barron – drums
Chris Lane – guitar
Chris Thompson, Tony Fields – backing vocals
Try here:
www.amazon.co.uk/Metallic-Blue-Slaves-New-World/dp/B0044IBMNS