MIDNIGHT BLUE – Take The Money And Run [YesterRock remastered + bonus]
Fortunately, one of the most unknown and obscure bands from glorious '80 British AOR scene has been resurrected by YesterRock Records: MIDNIGHT BLUE, and their awesome only album "Take The Money And Run", remastered, expanded and with a brand new artwork.
Founded by former Tobruk / current FM keyboardist Jem Davis and drummer Eddie Fincher (also ex- Tobruk, No Sweat), Midnight Blue featured the terrific vocals of the then unknown Doogie White, guitarist Alex Dickson who went on to Gun and later Bruce Dickinson, and Dublin-born bassist Niall Canning.
Midnight Blue seemed to tip the media upside down with their presence during the late '80s, and recorded a bunch of songs between 1988-89 but their management was not quite good enough to pick up a proper recording deal for the band.
Later, Japanese label Zero Corporation released a posthumous set in 1995, but by then, Midnight Blue as unit was history.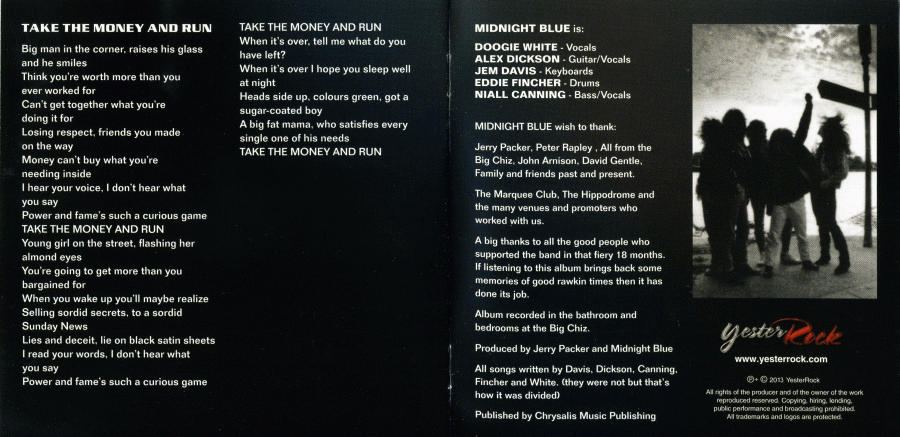 What we have here is a wonderful slice of pure, classic British AOR / Melodic Rock with catchy choruses, massive walls of keyboards, killer guitar riffs and superb lead vocals courtesy of a young yet talented Doogie White.
All songs are a blast if you are fan of the genre; the joyful "Surrender", the groove laden rocker "Makin' Love", or the pumping bass / parping synth driven "Call Me" and "Hands Of A Lover", just to name a few.
Of course you have also great ballads like the gorgeous "Remember" rich in melodies and layered keys, and the emotional "One Way To Heaven".
This YesterRock remaster sound million bucks, but there's more: two previously unreleased tracks.
"Hurts When We Do It" is an uptempo melodic rocker with that unmistakable British vibe, and "Only Girl" is a pure AOR heaven filled with bright keyboards, a contagious guitar riff and Doogie's big vocals that really are the icing on the cake.
A Must Have for any '80s Melodic Rock / AOR fan.
01 – Surrender
02 – Makin' Love
03 – Remember
04 – Call Me
05 – Till The Morning
06 – Little Heartbreaker
07 – Hold On Till The Heartbreak's Over
08 – Until Tomorrow
09 – Hands Of A Lover
10 – One Way To Heaven
11 – Take The Money And Run
12 – After Midnight (original Japanese bonus track)
13 – Party (original Japanese bonus track)
14 – Hurts When We Do It (YesterRock bonus track)
15 – Only Girl (YesterRock bonus track)
Doogie White – lead vocals
Alex Dickson – guitar, backing vocals
Jem Davis – keyboards
Eddie Fincher – drums
Niall Canning – bass, backing vocals
BUY
www.amazon.co.uk/TAKE-MONEY-RUN-MIDNIGHT-BLUE/dp/B00766FNV2