BADD ATTITUDE – S/T [FnA Records complete recordings remastered]
Fronted by songwriter, vocalist and guitarist Bobby Lee Morgan, BADD ATTITUDE was one of the top Nashville melodic hard rock bands from the late '80s and early '90s. All their recordings from the era were packed into CD some time ago but the release went sold out, so FnA Records reissued the band's complete recordings.
In the '80s Nashville wasn't exactly a homebed for hair metal / melodic hard rock. However, being one of the few bands playing this genre, Badd Attitude were very popular. They had the looks, they had the style, even the proper band name, and most importantly they had the music that made them the envy of every local rock band.
Badd Attitude was Nashville's "Hometown Hero Hair Band" waiting to be signed back in 1990 before the onslaught of the grunge scene. All their recordings are compiled into "Badd Attitude", most in fine quality. One listen to the songs here and you will see why their shows were packed.
With the looks of David Coverdale circa 1989, and a voice akin a young Jon Bon Jovi, Bobby Lee Morgan penned and composed all the 13 tracks that make up this album. He wrote well crafted, melodic, catchy hair metal songs about girls, parties and love that set Badd Attitude apart from the rest of the local Rock scene.
While not far from the sound of Warrant, Poison, Bang Tango, etc, at the time, these guys had potential for bigger things.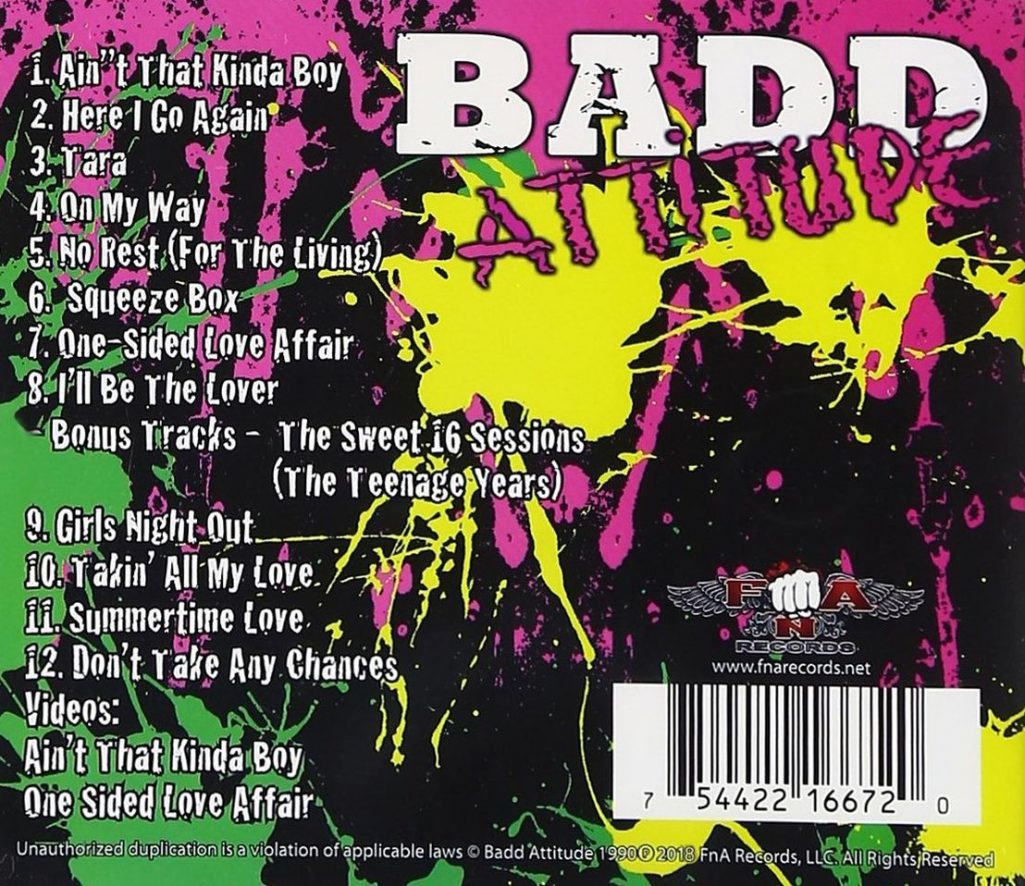 After many years shelved, the Badd Attitude recordings were finally released some years ago, and the band reunited for a show. There were conversations of more shows as well as the opening of a nightclub in Printers Alley that Bobby Lee had been working on for some time. Unfortunately Lee passed away shorty after, at 45.
"Badd Attitude" is a very cool time machine trip to the hair metal heyday, a fun and entertaining collection of melodic and catchy songs.
01 – Ain't That Kinda Boy
02 – Here I Go Again
03 – Tara
04 – On My Way
05 – No Rest (For the Living)
06 – Squeeze Box
07 – One-Sided Love Affair
08 – I'll Be the Lover
09 – Girl's Night Out
10 – Takin' All My Love
11 – Summertime Love
12 – Don't Take Any Chances
13 – Still Love You (Hidden Bonus Track)
Bobby Lee Morgan (Lead Vocals, Guitar)
Steve Nolen (Drums, Vocals)
Brian O'Connor (Bass, Vocals)
Plus Special Guests:
Tommy Cage (Bass, Keyboards)
Chuck McClinnis (Lead Vocals, Guitar)
Jimmy Mullins (Guitar)
Razzy Bailey (Guitar)
Brian Hart (Guitar)
Scott Salyers (Bass)
BUY
fnarecords.net/index.php/badd-attitude.html