TWISTED SISTER – Come Out And Play [Demolition Records remaster]
Originally released in 1985, with "Come Out And Play" TWISTED SISTER jump in the wagon of the commercial, polished hair metal sound of the era. Gone was the ferocious, aggressive and heavy version of Twisted Sister which was replaced by a hooky melodious collection of songs.
On "Come Out And Play" songwriting and arrangements are quite elaborated, and while many first time fans of the band miss the raw of the their previous albums, for us it's a really good record, catchy, punchy and very well produced by guru Dieter Dierks (Scorpions). Arguably, "Come Out And Play" is one of the band's most complete efforts.
"Leader Of The Pack" is pure hair metal, and we have aclassic sounding tune in "Be Chrool To Your Scuel", featuring Alice Cooper and many other guests such as Don Dokken.
As requested, here's the British label Demolition Records remastered release of the album.
There's a powerful number in the title track – still gets played live by the band – and "You Want What We Got" which while still quite commercial sounding has a lot more oomph than the rest of the material, providing variation.
We find other standout tracks such as "Looking Out For #1", a catchy rocker that will have you singing along very quickly, or "Kill Or Be Killed" sounding more like the Twisted Sister of old, and could have found its way onto an album such as You Can't Stop Rock 'N' Roll.
"I Believe In Rock 'N' Roll" is an anthem, a bit of cliché but man, that's hair metal. Of course there's ballads / semi-ballad midtempo in "I Believe In You" and "King Of The Fools", two solid songs in my book.
Finally, "Out On The Streets" is another anthemic track, commercial rocking stuff for the arenas.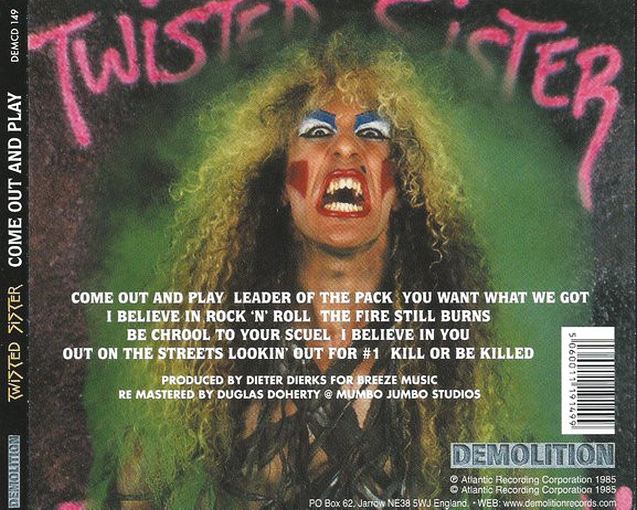 "Come Out And Play" firmly represents an era, mid-Eighties US glammy hard rock / hair metal, very well done and effective commercial stuff to enjoy.
There's various remastered versions of this album, this is our choice from British label Demolition Records, because it's done in the 'old-school' with a balanced output.
Highly Recommended
01 – Come Out And Play
02 – Leader Of The Pack
03 – You Want What We Got
04 – I Believe In Rock 'N' Roll
05 – The Fire Still Burns
06 – Be Chrool To Your Scuel (feat Alice Cooper)
07 – I Believe In You
08 – Out On The Streets
09 – Lookin' Out For #1
10 – Kill Or Be Killed
11 – King Of The Fools
Dee Snider – lead and backing vocals
Eddie Ojeda – guitars, backing vocals
Jay Jay French – guitars, backing vocals
Mark "The Animal" Mendoza – bass, backing vocals
A. J. Pero – drums, percussion
additional musicians:
Alan St. John – keyboards
Don Dokken, Gary Holland – backing vocals
Alice Cooper – accompanying lead vocals on 6
Brian Setzer – guitar solo on 6
Billy Joel – piano on 6
Clarence Clemons – saxophone solo on 6
Julia Waters, Maxine Waters – backing vocals on 6
Try here:
www.amazon.co.uk/Come-Out-Play-Twisted-Sister/dp/B000BTIOXU