ANGELICA – Thrive [Japanese Edition +1]
Swedish singer Angelica Rylin fronts Metal band The Murder Of My Sweet, often compared with Nightwish and Delain, but now she is debuting as solo artist for Frontiers Records with "Thrive", a pure modern AOR / Melodic Rock CD to be released next month but just appeared (as usually, first) in Japan.
Skilfully produced and conducted by talented Daniel Flores (who recently released another AOR gem with Find Me), "Thrive" packs all the necessary elements to please fans of the genre; Angelica designates Robin Beck, Ann Wilson (Heart) and Leigh Matty (Romeo's Daughter) as her heroes and main influences on this record and yes, she succeeds very well to transport this '80s mood in each song on the CD.
Tons of swirling keyboards, vocal harmonies and polished guitars provide the right feeling. As in any AOR project that respects itself nowadays, Angelica enlists almost all the elite of contemporary Melodic Rock scene such as Harry Hess, Robert Sall (Work Of Art), Anders Wigelius (who also did backing vocals) and Alessandro Del Vecchio contributing in the songwriting, while Jesper Stromblad (In Flames), Magnus Karlsson (Primal Fear), Per Berquist (Smash Into Pieces) and keyboardist Matt Guillory (James LaBrie) guest playing on some tracks.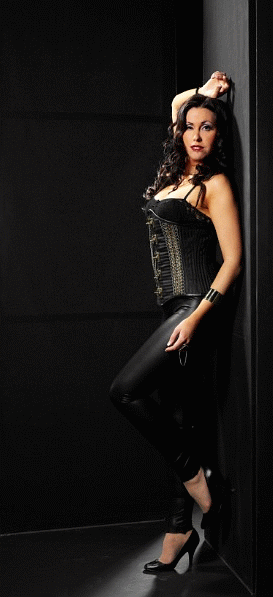 You get some real rockers with "Breaking My Heart", "I Am Strong", "You Will Never Win" and "Riding Out The Storm", all of which move with a deep toe-tapping groove.
Several songs blur the line between anthem and power ballad like the Robin Beck reminiscent of "Can't Stop Love" with a beautiful piano-led intro and a build into a crescendo of a chorus, the FM-tastic "Nothing Else You Can Break" and the stunning "Losers In Paradise" both examples of how Rylin can go from subtle to soaring in her voice with effortless ease.
One the best songs that showcases her voice but also strength of lyrics, arrangements and musicianship is the rhythmic "This Kiss Is Just For You", a true, bright, quite catchy AOR rocker.
Taken under the wings of Mr. Daniel Flores, Angelica heads out to the world with an album full of classic melodic hard rock and AOR tunes which instantly nest between the ears.
Soaring melodies and choruses, toneful arranged and composed songs with a smell of '80s grandeur are brought together with a pompous and powerful sound by Flores over which Angelica Rylin shines covering a lot of ground in range.
File "Thrive" next to your favorite Robin Beck, Issa and Romeo's Daughter records.
Highly Recommended.
1. Breaking My Heart
2. I Am Strong
3. To Your Rescue
4. Can't Stop Love
5. Nothing Else You Can Break
6. Riding Out The Storm
7. Rain On My Parade
8. Losers In Paradise
9. You Will Never Win
10. This Kiss Is Just For You
11. I'm Not Waiting
12. Take Me To Your Heart
13. Can't Stop Love (Alternative Mix) [Japanese bonus]
Angelica Rylin – lead and backing vocals
Per Bergquist – guitars
Daniel Flores -drums, keyboards, producer, backing vocals
Johan Niemann – bass
Guests:
Matt Guillory – keyboard solo on track 12
Jesper Stromblad – guitar solo on track 2
Magnus Karlsson – guitar solo on track 1
Mats Lindfors – guitar solo on tracks 4 and 5
Anders Wigelius – backing vocals
BUY IT !
www.amazon.co.jp/gp/product/B00ERYHAQW
.