SAXON – Unplugged And Strung Up (2013)
* the real one
There is always feral beauty in a raging beast… and with "Unplugged and Strung Up", SAXON's selection of unique, fresh and adventurous interpretations of material previously heard only with raw heavy metal thunder, the point is triumphantly underscored.
"Unplugged and Strung Up" reveals layers and pieces previously dormant in many of the 14 classic Saxon songs chosen for this awesome makeover, thanks to some ear-catching new arrangements and mixes.
Recorded, mixed and mastered with Andy Sneap in Derbyshire, UK earlier this year, Biff Byford and Co. re-evaluated, re-worked and re-energized the towering likes of "The Eagle Has Landed" and "Crusader" by introducing orchestral dynamics to offer added dimension.
Saxon are showing here three distinct new dimensions to their music, the first of which is re-records and remixes. The disc opens with a remix of "Stallions of the Highway", first seen on their 1979 debut album. This extended version is full of energy, with more forceful heavy guitars and powerful vocals than the original, but retains that classic metal sound.
Similarly with re-records "Forever Free" and "Just Let Me Rock", a more clean-cut sound is the only notable difference. However, it should be said that the latter is up there with the likes of Twisted Sister's 'I Wanna Rock' as rock 'n' roll anthems go.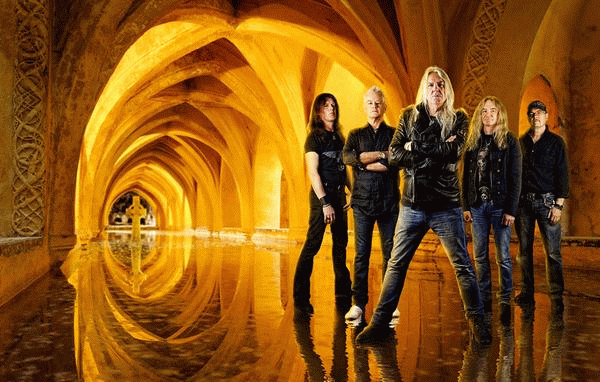 The second aspect of "Unplugged and Strung Up" are the orchestral tracks, which gives a whole new vibe to the record. "Crusader", at a first listen, is almost overwhelming. The orchestral element really comes through, and this delicate yet impressive touch makes it even more epic than the original.
With songs like "The Eagles Has Landed", "Red Star Falling" and "Call to Arms", the orchestral versions show a more stripped back side, sense of grandeur to Saxon. It even gives a modern feel to track "Broken Heroes", which is the first 'contemporary' track heard on the album.
The final element of this CD is definitely great: the acoustic tracks are gentle, almost elegant – words we would never usually associate with Saxon. We've heard Saxon blast out huge riffs and mighty vocals for over thirty years now, but the acoustic version of "Frozen Rainbow" is something totally new, which transports it into a power ballad to be proud of. And captivating for sure.
It's like they're taking a breath of fresh air and exhaling something pure, wholesome and organic in the form of acoustic tracks. Their riffs are still as compelling on a nylon guitar, their vocals are still as powerful when stripped back.
It's different, but that's exactly what we want from this album. On "Requiem", layers of folksy acoustic riffs are blended with metalized vocals. An unusual combination that simply works stupendous.
"Unplugged and Strung Up" finishes with its stand-out track; "Coming Home" has a country-style intro, enhanced when the tambourine kicks in. There's a real hillbilly feel to this track, and that's what's so great about it – it takes the misconception that bands like Saxon only sound one way and throws it right back in your face. Of course, the defining vocals arestill there but, that aside, "Coming Home" sounds nothing like a classic metal track. It encapsulates the point of the album perfectly.
What Saxon have done on "Unplugged and Strung Up" is to re-imagine a set of tracks that spans from the 1979 debut right up to more recent releases. When Hollywood re-imagines old movies they ruin; when Saxon re-imagine their songs they produce new and excellent versions.
This album really is not what it first appears, well not if you judge it solely on its title anyway. You see only the last four tracks of this fourteen track album are actually acoustic. A further five tunes ('Crusader', 'The Eagle Has Landed', 'Red Star Falling', 'Broken Heroes', and 'Call To Arms') get the orchestral makeover that warrants the Strung Up element of the album title, with the remaining five songs either remixed or recorded slabs of classic Saxon metal.
So it's hardly what I would call an acoustic album, not by a long shot. And all the three elements work great as a whole.
There will be two versions of the album available; the standard single CD of "Unplugged And Strung Up" comes in a jewel case and a double-vinyl gatefold sleeve. The digipak will be a two-disc version featuring the 2002's re-recorded greatest hits package 'Heavy Metal Thunder' as bonus disc.
But what you really need is "Unplugged And Strung Up", a highly recommended addition to your music collection.
01. Stallions Of The Highway (Remix)
02. Crusader (Orchestrated Version)
03. Battle Cry
04. The Eagle Has Landed (Orchestrated Version)
05. Red Star Falling (Orchestrated Version)
06. Broken Heroes (Orchestrated Version)
07. Call To Arms (Orchestrated Version)
08. Militia Guard
09. Forever Free (Re-recorded Version)
10. Just Let Me Rock (Re-recorded Version)
11. Frozen Rainbow (Acoustic Version)
12. Iron Wheels (Live Acoustic Version)
13. Requiem (Acoustic Version)
14. Coming Home (Acoustic Version)
Biff Byford – Vocals
Paul Quinn – Guitars
Doug Scarratt – Guitars
Nibbs Carter – Bass
Nigel Glockler – Drums
BUY IT !
www.rocknshop.de/saxon-unplugged-and-strung-up-cd-jewel/p_8806_en/
.