CLOCKWORK REVOLUTION – Clockwork Revolution (2017)
CLOCKWORK REVOLUTION are releasing its self-titled debut album, a new band formed at the end of 2015 featuring former members of Yngwie Malmsteen's Rising Force, Crimson Glory, Lynch Mob, W.A.S.P. and more.
Clockwork Revolution is drummer Patrick Johannson (W.A.S.P., Yngwie Malmsteen, G3, Gus G, Lynch Mob), singer Wade Black (Leatherwolf, Crimson Glory, Seven Witches, Leash Law, War of Thrones), bassist Dirk Van Tilborg (Alias, Attakk, Crimson Glory, Kamelot) and guitarist Dewayne Hart (Kinlin) delivering a powerful sound that draws from both modern and classic melodic metal / hard rock.
Despite opening with the pretty heavy 'Give Me The Reins' a song with a classic US metal feel all over, the following songs have a midtempo, groovy pace such as second cut 'Now I Know' mixing Crimson Glory atmospheres and some DIO spell.
Next, 'Heritage' level up a notch akin the darker side of Lynch Mob, while 'Fade Away' again add a considerable groove again for a dense main melody and some modern vocal arrangements.
We had to wait to the middle of the album for another metallic tune in 'Monsanto', a song with a similar style of what Yngwie is doing these days, and a stupendous drum work.
There's an insistent riff in 'Sweet Leaf' and then a hot guitar solo, then we have in 'Endless' another '80s sounding tune bringing to mind Impellitteri, and why not Judas Priest.
'Last In Line' is not a Dio cover, however the atmosphere in this midtempo rocker – including clean guitars alongside distortion – are clearly influenced by Dio-era Black Sabbath.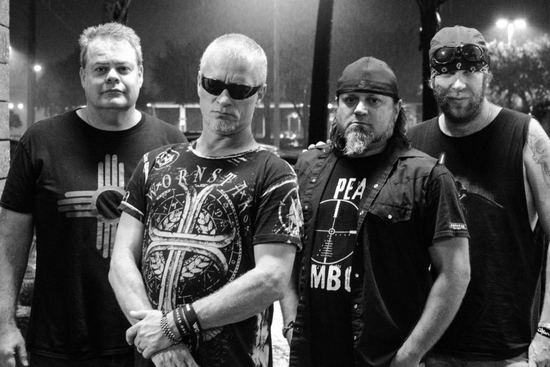 Closer 'Test My Pride' is dark, with some kind of tuned down guitar and again a late Crimson Glory feel, perhaps due Wade Black vocal style.
Florida based Clockwork Revolution are a strong unit playing old-fashioned melodic metal / hard rock wrapped by a modern sound & production. While at places the album turns a bit repetitive, there's solid songwriting and musicianship.
On their debut album Clockwork Revolution try to absorb all the mentioned influences and member's experience to create something unique. They doesn't sound like anyone else in the current scene.
It could find public from both metal / rock, and old / young listeners.
01 – Give Me The Reins
02 – Now I Know
03 – Heritage
04 – Fade Away
05 – Monsanto
06 – Carnivore
07 – Sweet Leaf
08 – Endless
09 – Last In Line
10 – Test My Pride
Wade Black – Vocals (Crimson Glory, Seven Witches)
Dewayne Hart – Guitars (Kinlin)
Dirk Van Tilborg (Alias, Kamelot, Crimson Glory) – Bass
Patrick Johannson (W.A.S.P., Y. Malmsteen, Lynch Mob) – Drums
BUY IT !
www.amazon.com/Clockwork-Revolution/dp/B071GXZF87
.