DAVE KERZNER – Static (2017)
"Static" is DAVE KERZNER's follow up studio solo album to his acclaimed debut New World, again including some renowned musicians. The album has the length of a traditional double album on one CD (or 74+ minute CD) and follows a concept: in short, it's some kind of homage to the Classic Prog golden days, but musically modern, mostly uptempo and at places, rocking.
Over the years keyboard wiz / songwriter / producer Dave Kerzner has worked with many major artists and producers ranging from Kevin Gilbert to Keith Emerson & ELP, Steve Hackett, Steven Wilson, Alan Parsons, Neil Peart of Rush, Billy Sherwood and countless more.
As happened with his solo debut, "Static" features top musicians who not only appear as 'famous guest to put on the front cover sticker'. No, each of these talented musicians are really involved into the project and leaves their mark.
There's Steve Hackett (Genesis) playing on the song 'Dirty Soap Box', which is a tip of the hat to hte late John Wetton works but with a busy musical background akin Karmakanic.
And we hear contributions from the likes of Nick D'Virgilio (Big Big Train), Colin Edwin (Porcupine Tree), Alex Cromarty (Mostly Autumn), and many more.
Kerzner not only is a keyboard master (check the awesome 'Statistic'), but also an imaginative composer and yes, a great vocalist as well. His leads are second to none, highly melodic and rich in harmony arrangements.
The concept of "Static" is about the distractions, chaos and clutter in everyday life and about navigating past this "static interference" in our heads toward clarity and happiness.
It works fine, and don't distract you from the musical awesomeness all over the record.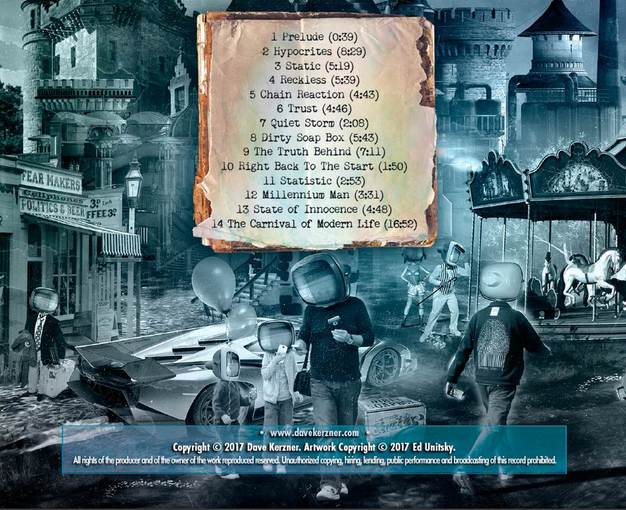 While inspired in the classic Prog format, musically "Static" sounds very modern, 'muscular' mosty via uptempo songs mixing Neo Prog, Melodic Rock, Rock&Pop, Classic Rock, even some AOR.
Think an extensive collage of Asia, GTR, Marillion, Steven Wilson, Saga, John Wetton, Alan Parsons, Queensryche … all with excellent musicianship and crystal clear production.
HIGHLY Recommended to ALL audiences.
01 – Prelude
02 – Hypocrites
03 – Static
04 – Reckless
05 – Chain Reaction
06 – Trust
07 – Quiet Storm
08 – Dirty Soap Box
09 – The Truth Behind
10 – Right Back To The Start
11 – Statistic
12 – Millennium Man
13 – State of Innocence
14 – The Carnival of Modern Life
Dave Kerzner – Vocals, Keyboards, Guitar, Drums, Bass
Fernando Perdomo (Jakob Dylan) – Guitar, Bass, Drums, Vocals
Derek Cintron (Brothers of Others) – Drums
Randy McStine (The Fringe) – Guitar & FX
Durga & Lorelei McBroom (Pink Floyd) – Vocals
Ruti Celli – Cello
Steve Hackett (Genesis) – Guitar on "Dirty Soap Box"
Nick D'Virgilio (Big Big Train) – Drums on "Dirty Soap Box"
Matt Dorsey (Sound of Contact) – Bass on "Reckless"
Colin Edwin (Porcupine Tree) – Bass on "Static"
Ewa Karolina Lewowska – Vocals on "Static"
Alex Cromarty (Mostly Autumn) – Drums on "Chain Reaction"
Stuart Fletcher (Sea Horses) – Bass on "Chain Reaction"
Chris Johnson – Guitar on "Chain Reaction"
PRE ORDER:
burningshed.com/dave-kerzner_static_cd
.