DEBBIE RAY – Slave To The System (2017)
I could cut to the chase and tell you to buy DEBBIE RAY's new album "Slave To The System" to be released world-wide tomorrow, and I think you'd be happy with it.
Formed back in 2005, Debbie Ray has had something of a rocky history, notably with personnel problems and inconsistent output. They released one album in 2009, and then an EP in 2012, before disbanding shortly thereafter for a hiatus.
Now Debbie Ray is back as a three piece, with original members Reine Heyer, Andreas Heleander and H-Can to deliver their long-awaited second album "Slave To The System".
Curiously, the recording label press sheet describes Debbie Ray as a modern hard rock band. I don't think so. The Debbie Ray sound is straight out Eighties melodic hard rock with a metal edge.
You can hear everything from Bon Jovi to Poison, Motley Crue to Guns N' Roses, to more recent bands like Backyard Babies and Crazy Lixx.
Moreover, listening to the arena rockers 'Too Late To Pray', 'Made To Cry', and 'Sorry, Debbie Ray' injects some catchiness with an even AORish feel.
But essentially, the album rocks with a punchy melodic hard rock vibe.
You get more edgier material with 'American Nightmare', 'Promises', 'Slave To The System', and 'Find Myself', all charged with brisk sharp riffs and often a bristling pace. Yet, while heavy, all of them turn on a strong rock groove that always surfaces.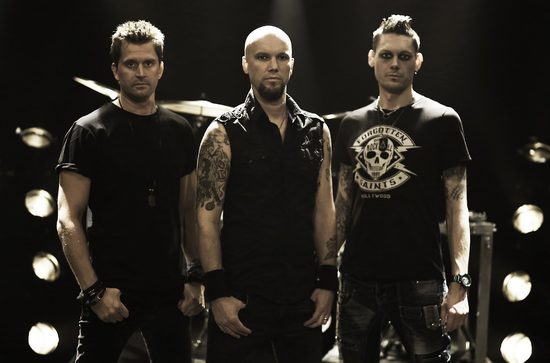 The rock rhythm n' groove rises easily within 'Gotta Get It Right' and 'All You Need Is Rock N Roll'. Also, of significance within all the songs is an abundance of melody and harmony, both in the guitar lines and vocal arrangements.
A true ballad comes at the end with the acoustic driven 'Living Without You', a very nice tune showcasing antoer side if the band.
Reine Heyer has a great vocal presence, a clean, strong, and melodic set of pipes with that characteristic Swedish touch. Also, throughout the entire album, the lead guitar solos of Andreas Heleander are abundant and pretty killer.
Honestly, with "Slave To The System" Debbie Ray has delivered one of the strongest modern melodic hard rock album of the year, offering catchy tunes with memorable melodies and refrains, then twisting them with some metal edge and AOR accessibility.
HIGHLY Recommended
01 – American Nightmare
02 – Slave to the System
03 – All We Need Is Rock n'roll
04 – Too Late to Pray
05 – Made to Cry
06 – Way out of Wasteland
07 – Sorry!
08 – Beautiful Monday
09 – Promises
10 – Find Myself
11 – Gotta Get It Right
12 – Living Without You
Reine Heyer – vocals, guitar
Andreas Heleander – guitar
H-Can – drums
PRE ORDER:
www.amazon.de/Slave-System-Debbie-Ray/dp/B074BV39XQ
.