38 SPECIAL – Strength In Numbers [Japan SHM-CD remastered] (2018)
Yeah, Japan did it again: all the best 38 SPECIAL albums finally have been remastered, a 2017 fresh sonic treatment using the original US analog master tapes and pressed on high quality SHM-CD. It's all done in wonderful cardboard sleeve mini LP replica, which also faithfully replicates the OBI design of the Japanese first pressing LP.
And now we have here in exclusive "Strength In Numbers", perhaps my favorite album from the band, originally appeared in 1986.
Simply put, 38 SPECIAL goes AOR.
By the mid-Eighties, 38 SPECIAL fully embraced the 1985-86 AOR sound typical from the era to polish to the extreme their melodic bluesy songs.
For that matter, what you needed to do?
Easy; call the best in the business.
They got master Keith Olsen (Whitesnake, Heart, Journey) to produce, expert songwriter Jim Vallance (Bryan Adams, Aerosmith, Kiss) to co-write (and also play some drums) and top notch session musicians like Mike Porcaro (Toto), Denny Carmassi (Heart, Whitesnake), Bill Cuomo (Survivor, Steve Perry) and Tom Kelly (Toto, Player) among others.
The result? One of the best – if not the best – blues infused AOR / Melodic Rock albums from the '80s.
This CD begins with three classic AOR tracks in a row. 'Somebody Like You' waves the anthem flag proudly, while 'Like No Other Night' flies in at midtempo magic. 'Last Time' features another anthemic chorus rising out of a hookladen midtempo verse, a genuine classic.
The melodic rumble of 'Heart's On Fire' is thoroughly AOR (those lyrics are pure '80s !), while 'Against The Night' is just another joyous uptempo AOR workout with all the hooks and melodies to make it one of favorite songs from 1986.
'Never Give An Inch' seals precedings with a final anthem chorus and its great guitar work.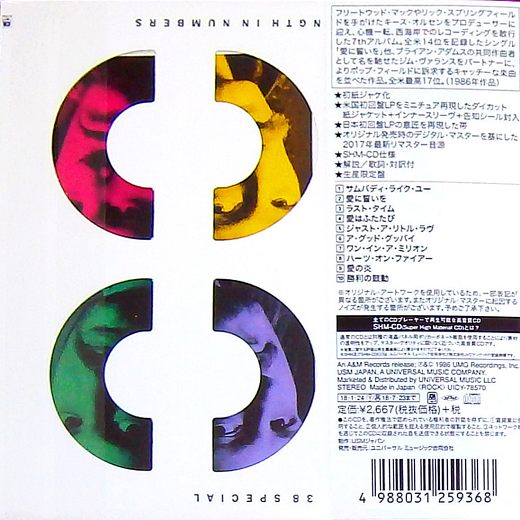 For most people, 38 Special is regarded as a southern rock institution, and not all '80s AOR fans take notice that "Strength In Numbers" is, in fact, a true AOR album.
Polished to extreme, with a knack for smooth melodies and sweet choruses, "Strength In Numbers" is a gem.
As the opposite to many productions from the genre during those golden years, the bass presence on this album is upfront, providing a pumping foundation for the elegant guitars, bright keyboards and smooth vocals.
This Japanese remaster on SHM-CD is outstanding, and worth every penny to own this fantastic '80s AOR piece in all its glory.
A MUST HAVE
You've seen it first here, at 0dayrox
Universal Japan ~ UICY-78570 【LTD SHM-CD】
3 8  S P E C I A L 「 REISSUE SERIES 」
01 – Somebody Like You
02 – Like No Other Night
03 – Last Time
04 – Once in a Lifetime
05 – Just a Little Love
06 – Has There Ever Been a Good Goodbye
07 – One in a Million
08 – Hearts on Fire
09 – Against the Night
10 – Never Give an Inch
Donnie Van Zant – vocals
Don Barnes – guitar, vocals, backing vocals
Larry Junstrom – bass
Steve Brookins, Jack Grondinm, Denny Carmassi – drums
Bill Cuomo – keyboards
Nick Lane, Jerry Peterson, Earl Lon Price – horns
Mike Porcaro – bass guitar
Jim Vallance – drums, backing vocals
Tom Kelly – backing vocals
BUY
www.cdjapan.co.jp/product/UICY-78570