CRIMSON GLORY – Crimson Glory [remastered +1]
These were requested many times on this blog; the reissue of the two essential albums from CRIMSON GLORY – the self titled debut album and the follow-up 'Transcendence' – by Metal Mind Productions, both remastered for the first time using 24-Bit process on golden disc, including bonus tracks and presented in a deluxe digipak limited to numerated 2000 copies.
Crimson Glory emerged on the '80s metal scene as quite a phenomenon, delivering a groundbreaking mixture of glam and traditional metal with a progressive twist to it.
Their debut album "Crimson Glory" from 1986 has brought them a huge acclaim from specialized press and fans of the genre, to whom they would refer to as The Crimson Militia.
The music in "Crimson Glory" is, as is the case with most metal bands, based around the guitar work of Jon Drenning, and the unique, outstanding vocals of Midnight (real name: John Patrick Jr. McDonald).
Midnight's vocals go from high-pitched and wailing to twisted and "insane" in the blink of an eye. Always powerful, never missing a note, often compared with the young Geoff Tate (Queensryche).
But all the musicians in Crimson Glory are amazingly talented. The band had their own sound from get go, and with great production on their debut album, they had a strong and very professional send-off.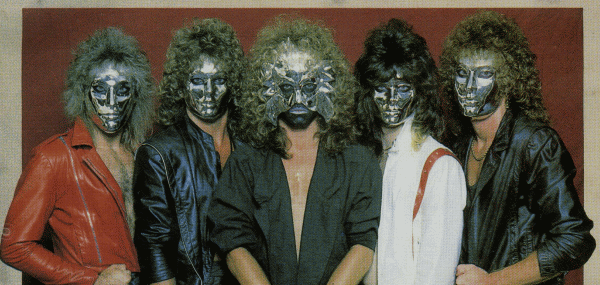 Imagine, if you will, music that is both melancholic, emotional, and powerful, heavy at the same time. There is even hints of futuristic touches, and some mystical aura.
This 'mystery' was reinforced by the band's image; in an era of sound-and-lookalike metal bands, Crimson Glory's goal was to be immediately identifiable from the others, so they wore full-face metallic silver masks.
They used them on-stage, as well as for all photo shoots and public appearances. Vocalist Midnight was the exception to this, as his mask left his mouth uncovered to be able to deliver his acrobatic vocal performances.
"Crimson Glory" is absolutely one of the best metal / melodic / progressive albums ever released and an '80s milestone from the genre.
The songwriting is varied, always captivating, surprising, and all of the arrangements very well thought through. The album's success was not surprising – the unique collaboration of heavy, yet melodic tight dual-lead guitars, brilliant drumming and amazing vocals brought a true masterpiece onto the metal soil.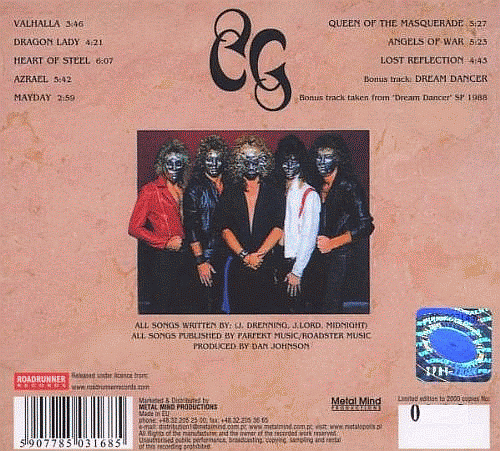 This Metal Mind reissue delivers a superb digitally remastered job, giving all the instruments a clear and present space in the sound picture. Added to this digipak is also the bonus track 'Dream Dancer', previously only available as a single B-side.
Essential in your collection.
Metal Mind Records / Cat. No.: MASS CD 1088 DG
Gold CD Digipak (limited edition of 2000 numerated copies)
1 – Valhalla
2 – Dragon Lady
3 – Heart Of Steel
4 – Azrael
5 – Mayday
6 – Queen Of The Masquerade
7 – Angels Of War
8 – Lost Reflection
9 – Dream Dancer (Bonus Track)
Midnight – Vocals
Jon Drenning – Lead Guitar
Ben Jackson – Rhythm Guitar
Jeff Lords – Bass
Dana Burnell – Drums
BUY IT !
www.amazon.co.uk/Crimson-Glory/dp/B0012OVEJO
.