TOTO – Hydra [Rock Candy remastered & reloaded]
TOTO's debut album was one of the surprise events in the music business at the end of the seventies. It was rammed to the rafters with methodically crafted tracks, and produced two bonafide hit singles; 'I'll Supply The Love' and 'Hold The Line'.
It was these two songs that reshaped the sound of melodic rock, giving rise to the style that forever onwards became known as AOR. Certified double platinum, the future for Toto looked assured or so they thought…
When they returned with their second album "Hydra", their fans and critics were confronted with a work that although immediately recognizable, was considerably more advanced and complex.
Instead of serving up another dish of stylistic melodic rock, they reached deep inside and committed to elaborate compositions and intricate arrangements. In many respects the approach could be traced directly back to the band's progressive rock leanings; something that their musical ability and dexterity had always hinted at.
Given the success of their first self titled debut album it would be difficult to surpass it, but Toto did just that with "Hydra".
The band went for an edgier sound instead of the stylistic pop rock sound that was their first album. It is a record that combines all the positive aspects of a band that not only wrote great songs but also presented them in a format that wasn't clichéd or pedestrian.
The title track, for instance, is a seven minute plus anthem that has become a career cornerstone showcasing one of best Steve Lukather's playing ever and some exceptional keyboard work by both Steve Porcaro and David Paich, whilst shorter, sharper tracks such as "White Sister" (featuring infernal solos by Lukather) and "All Us Boys" reinforced the rocking AOR backbone in spectacular form.
The musicianship and production are first rate and this is an album that you can listen to, forget and go back and it still sounds fresh. "Hydra" was their most consistent, elaborated album from song to song but probably the least appreciated.
Actually "Hydra" is arguably Toto's finest hour as musicians; Lukather is on fire and his guitar playing is mind blowing. Jeff Porcaro drumming is phenomenal. David Paich and Steve Porcaro are wizards on the keyboards. David Hungate lays down a wicked bass, and Bobby Kimball sounds stronger, visceral at places.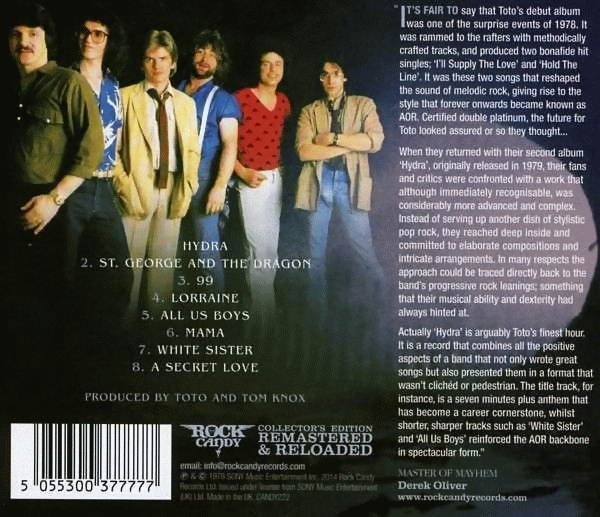 "Hydra" rocks harder than most other Toto CD's, adding progressive elements to their melodic recipe and proving that these incredible musicians are able to play anything, and always in a victorious form.
The Rock Candy treatment wisely respect the original frequencies resulting in a remaster that sounds with the original organic vinyl LP output but with a more potent gain and definition.
This is one of the best Toto albums, a pearl to be re-discovered over and over again.
HIGHLY RECOMMENDED
01 – Hydra
02 – St. George And The Dragon
03 – 99
04 – Lorraine
05 – All Us Boys
06 – Mama
07 – White Sister
08 – A Secret Love
Bobby Kimball – lead and backing vocals
Steve Lukather – guitars, lead and backing vocals
Steve Porcaro – keyboards, electronics, backing vocals
David Paich – keyboards, lead and backing vocals
David Hungate – bass, guitar
Jeff Porcaro – drums, percussion
Additional musicians;
Michael Boddicker: keyboards
Roger Linn: synthesizers
Lenny Castro: percussion
Marty Paich: string arrangements
BUY IT !
www.barnesandnoble.com/w/hydra-toto/27503477
.