SURVIVOR – Vital Signs [Rock Candy remaster +1] AccurateRip
Featured here some time ago, there were some glitch / bad ripping in the original. Here's a fresh one using the Accurate Rip tool.
If you need to show someone what's 80s AOR, press play on "Vital Signs" by SURVIVOR, and better on this excellent remaster by Rock Candy specialists.
As the story is taken up by journalist Dave Ling in the great essay accompanying this Rock Candy release (16-page booklet + rare Survivor photos) Survivor and their record label had a rethink after the lack of hits on their previous album.
The move was the replacing of vocalist Dave Bickler with ex-Target and Cobra singer Jimi Jamison, with Frankie Sullivan vacating the producer's chair in favor of the legendary Ron Nevison.
The results were spectacular.
"Vital Signs" blew the roof of the charts, delivering three US top 20 hit singles ('The Search Is Over', 'High On You' & 'I Can't Hold Back') whilst the album itself made #16 on the album charts.
Of course it helped that the Sullivan / Peterik axis came up with some killer songs for Jamison to wrap his out of this world vocal cords around, with Nevison giving a glossy radio-friendly sheen, classic AOR sound.
Elsewhere the slower stomp of 'Broken Promises' and 'Popular Girl' are strong album tracks and the upbeat 'First Night' and classic 'It's The Singer Not The Song' raised the energy levels even higher.
'Everlasting' is a smooth mid-tempo ballad, whilst the moody 'I See You In Everyone' is a terrific album closer.
This Rock Candy remastered version adds the non-LP, hit single 'The Moment Of Truth' from 'The Karate Kid' soundtrack. Another great tune to treasure.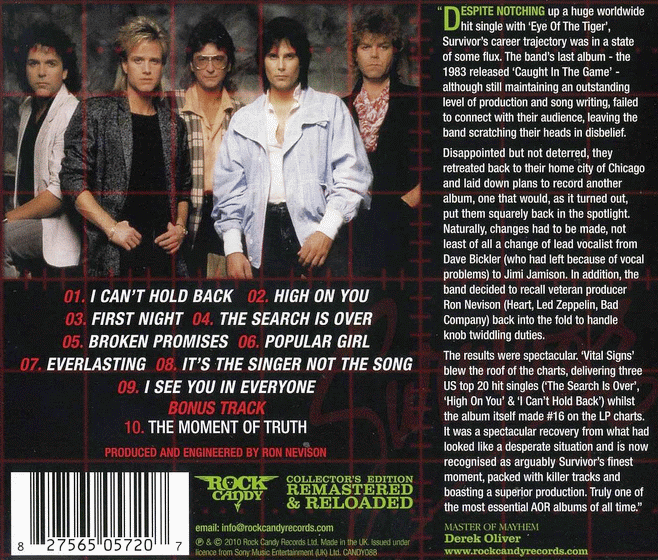 This is Survivor's best and most enduring album, and song-wise and singles-wise their cracker. Ron Nevison awesome production turned the vocals, keys, and the electric guitars jump out at you – especially from the radio as was probably the intention.
I said this many times: Ron Nevison is the greatest AOR / Rock producer from the '80s. However, his productions sound fantastic on vinyl LP but not so on CD (specially the first Eighties generation CD's) pretty poor in dynamic range and bass-less.
Now, with modern transfer-to-CD technology, much of this problem is alleviated by the remastering of Jon Astley, and through decent speakers or headphones this Rock Candy 'Vital Signs' sounds like a completely different album.
Recognised as arguably Survivor's finest moment, "Vital Signs" is packed with killer tracks and terrific melodies, truly one of the greatest AOR albums of all time.
ESSENTIAL
01 – I Can't Hold Back
02 – High On You
03 – First Night
04 – The Search Is Over
05 – Broken Promises
06 – Popular Girl
07 – Everlasting
08 – It's The Singer Not The Song
09 – I See You In Everyone
10 – Moment Of Truth (bonus track)
Jimi Jamison – lead vocals
Frankie Sullivan – guitar, vocals
Jim Peterik – keyboards, bass, guitar, vocals
Stephan Ellis – bass guitar
Marc Droubay – drums
BUY IT !
www.nehrecords.com/shop/SurvivorVital.htm
.