THE DEAD DAISIES – Burn It Down [Japan Digipak +1] (2018) *HQ*
THE DEAD DAISIES will release their new album, "Burn It Down", on Friday, April 6 via Spitfire Music/SPV. A muscular tour-de-force, a tornado of pounding drums, pulverizing bass, screaming guitars and in-your-face raw vocals; "Burn It Down" will do just that: burn down everything in its path until there is nothing left standing.
The Dead Daisies formed from a project idea by Jon Stevens and David Lowy back in 2013. Jon would only be in the band for a couple of years, but Lowy has remained throughout. The line-up changes regularly, friends of the band come and go but the outcome always remains the same: ballsy hard rock with no frills.
John Corabi has finally found a home for his immense talents, after years of lending vocals to some of my all-time favorite albums from The Scream to Motley Crue and Union, John is a perfect fit for the Daisies. The same can be said for Doug Aldrich, who just completely rips on this album.
The addition of Deen Castronovo on drums only adds to overall thunderous sound the band brings on "Bring It Down" and being a great singer in his own right, only makes The Dead Daisies sound that much sweeter.
The band kicks things off with 'Resurrected' a full throttle rocker, pedal to the floor no looking back number and their just getting started. The anthemic 'Rise Up' starts off with some chugging guitar before kicking in and having the band proclaiming it's time to rise up from hate to love.
Title track 'Burn It Down' starts off with a little blues guitar quickly turning into a face-smashing song.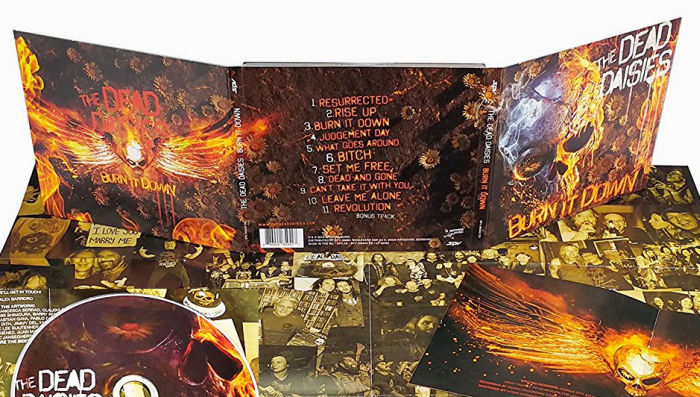 'Judgement Day' is the perfect example of a bass-lead classic rocker which bring to mind Badlands / Ray Gillen, whilst 'Set Me Free' is a Blues influences ballad of which is one of the finest examples around. The emotion is communicated through the lyrics and sound music to the point extent that you share the feelings with the band.
'What Goes Around' is a riff-driven monsta that will keep you playing your air guitar, then 'Set Me Free' slows things down a bit. Oh man how I miss the days when rock radio played great music like this midtempo rocker. This song would've been and should be a hit in any era of music.
'Can't Take It With You' lyrics "but you can have it all, before you go" pretty much sums it up: words to live by. Regular CD edition ends with 'Leave Me Alone' another killer tune and one of my favourite tracks from this record, the start is groovy dirty guitars and a classic rock rhythm with a catchy chorus.
This Digipak edition comes with a bonus track: a cover of The Beatles classic 'Revolution'. In the Dead Daisies hands it turns almost unrecognizable with its broken riff and Corabi's raspy vocals. Great version.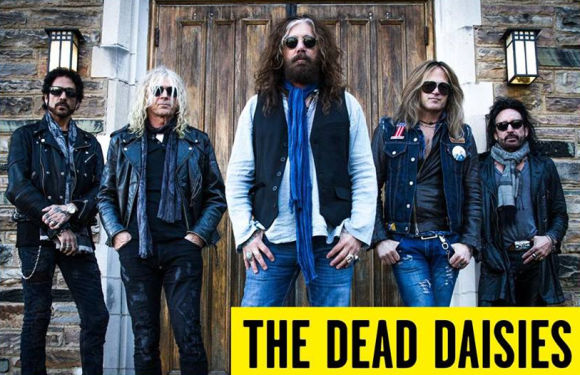 With incredible riffs, unreal solos and an overarching groove that just makes you want to sing along and the toes start to tap, The Dead Daisies show why "Burn It Down" is so highly anticipated and the upcoming live shows will undoubtedly be extremely well attended.
It's a hot, kick ass album that is a bit short and leaves you hungry for more, but when every song kicks your ass like this….. who am I to complain?
HIGHLY RECOMMENDED
01 – Resurrected
02 – Rise Up
03 – Burn It Down
04 – Judgement Day
05 – What Goes Around
06 – Bitch
07 – Set Me Free
08 – Dead And Gone
09 – Can't Take It With You
10 – Leave Me Alone
11 – Revolution (Digipak Bonus Track)
Doug Aldrich (Whitesnake, Dio) – guitar
John Corabi (Mötley Crüe, The Scream) – lead vocals
Marco Mendoza (Thin Lizzy, Whitesnake) – bass. vocals
Deen Castronovo (Journey, Bad English) – drums, vocals
David Lowy (Red Phoenix, Mink) – keyboards
PRE ORDER:
www.amazon.de/Burn-Down-Digi-Bonustrack-Poster/dp/B078XXZHPY
.