SPACE ELEVATOR – II (2018)
Some years ago, England's SPACE ELEVATOR, formed by guitarist David Young and flamboyant vocalist The Duchess, dropped their debut album. They promptly shocked and pleased the music community with their surprising and entertaining AOR / Melodic Mock inspired by the classics. Well, folks, Space Elevator is back to do it again with the aptly titled "II" to be released tomorrow.
"II" picks up where the first Space Elevator album left off, but delivering even more catchy AOR / MR developed around tight arrangements that turn on keen melodies and harmonies, sweet refrains, smooth beat, slick guitar solos, and The Duchess' amazing and versatile voice.
Left to me, I would buy this album just to hear her sing.
But you also might hear something different, in the best sense, this time around.
There's some a sharp, edgy approach to some songs, notably in Young's guitar lines. 'Take The Pain' and 'Talk Talk' start the album. The former turns more upon melodic hard rock with sharp riffs and a tough solo. The latter moderates only slightly, turning on a bouncy beat and groove, but getting bolder with the guitar solo in the second half.
'Far Away Boy' starts with a big drum beat tied to more slick riffs, then the pace quickens as the song stays strong.
The band adds a bit of a power-pop twist to the otherwise rocker, 'Crazies'. Alternatively, you'll find more of Space Elevator's lighter AOR rock with 'World Of Possibilities', 'All This Time', 'Lucky Girl', and the uplifting ballad, 'The One That Got Away'.
The best thing about the softer songs is the simple fact that The Duchess' voice rises higher above the music.
Yet, the most unique and quirky song here is 'W.Y.T.A.T' which juxtaposes a classic rock feel with a modern beat, and The Duchess taking a turn at rapping. And it wraps up with another killer Young guitar solo.
Of course the influences are still here as heard in the first album and which makes Space elevator so unique: Queen, Genesis, Asia, GTR, and they have hints of those artists in this album. There is also a West End musical feel to the production of some songs as you'd expect given the background of the musicians.
Listen to 'Oils And Bubbles' and it sounds like Queen and the Darkness written for the stage. Great harmonies, Brian May approved guitar solos and a tongue in cheek lyric make this a winner.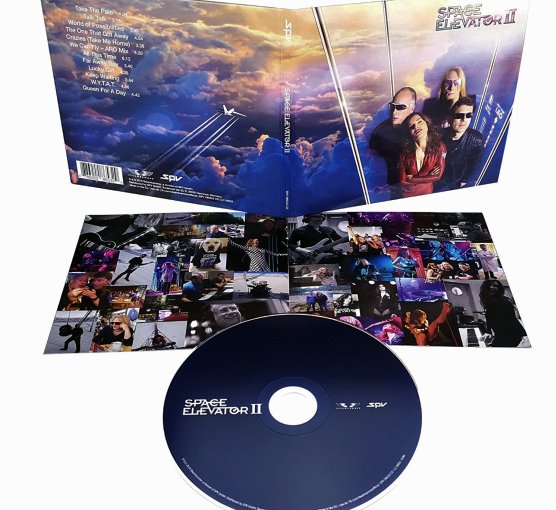 Fine musicianship as you'd expect given the calibre of the musicians involved and a really good set of new tunes makes Space Elevator "II" another great slice of what this band is capable of.
Now signed by SPV/Steamhammer I hope the band got the exposure that largely deserve.
Highly Recommended
01. Take the Pain
02. Talk Talk
03. World of Possibilities
04. The One That Got Away
05. Crazies (Take Me Home)
06. We Can Fly (Aro Mix)
07. All This Time
08. Far Away Boy
09. Lucky Girl
10. Keep Waiting
11. W.Y.T.A.T.
12. Queen for a Day
The Duchess – Lead Vocals, Backing Vocals, Vocal Arrangements
David Young – Electric Guitar, Classical Guitar, Acoustic Guitar
Brian Greene – Drums and Percussion
Chas Maguire – Electric Bass, Backing Vocals
PRE ORDER:
www.amazon.co.uk/II-Space-Elevator/dp/B07B571WK3
.