DEVIL CITY ANGELS – Devil City Angels [retail CD]
One of you asked for this album, criminally underrated when released and featuring one of the best vocalists from the new generation. They are a new band, but members of DEVIL CITY ANGELS have an impressive musical pedigree.
The group featuring L.A. Guns' Tracii Guns on guitar, Quiet Riot's Rudy Sarzo on bass, Poison's Rikki Rockett on drums, and Brandon Gibbs (Cheap Thrill) on vocals, released this self-titled debut plenty of rocking songs.
Devil City Angels issued an EP at the tail end of 2014 (featured at this blog) and proceeded to play a handful of select live dates, then reconvened to write and record their self-titled album.
Legendary bassist Rudy Sarzo now takes over for Eric Brittingham (Cinderella) who played on the album but departed shortly after the recording wrapped up.
The album is a great mix of classic and contemporary hard rock, there's no flash like we've seen in Guns' or Rockett's previous bands. The songs are incredibly melodic, catchy and memorable which makes for a fun listening experience.
Devil City Angels launched the album with "Boneyard" which hit the mark sonically and lyrically. Brandon Gibbs has a powerful soulful voice and a brilliant sense of melody that sets him apart from his contemporaries. The best example of this is heard on the opener, "I'm Living", and what I believe is one of the best ballads from the decade, "Goodbye Forever."
There's not a dull moment on "Devil City Angels" which is a pleasant surprise in an age where older, established musicians tend to satisfied with one or two good tracks for an album and proceed to overload the rest of the album with subpar material.
The most unique track is "All I Need" which features a Beatles-esque chorus and a super sappy, poppy feel to it — yet it works. Devil City Angels also covered the Mike Chapman penned "Back to the Drive" which was made famous by Suzie Quatro, and the result is very good.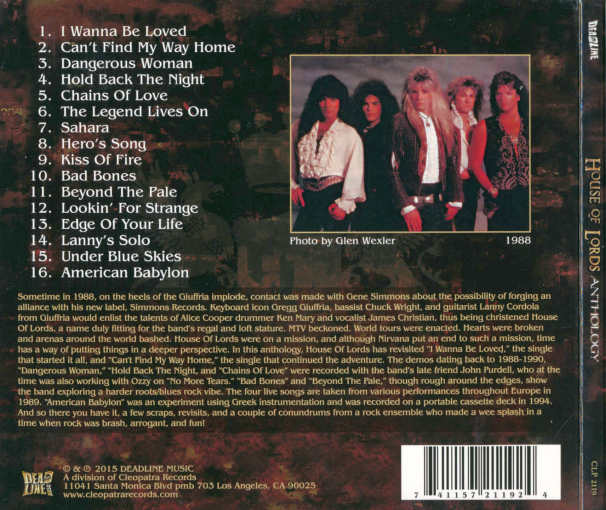 If you're searching for a solid hard rock record performed by seasoned musicians plenty of nice twists, turns, chockful of melody that's brilliantly executed, check out Devil City Angels' self-titled album pronto.
Thank you Devil City Angels for putting out such a great kick ass rock n' roll album. The American Rock music world has been missing something this good in a long time.
01. Numb
02. All My People
03. Boneyard
04. I'm Living
05. No Angels
06. Goodbye Forever
07. Ride With Me
08. All I Need
09. Back To The Drive
10. Bad Decisions
Tracii Guns (L.A. Guns) – Guitar
Rudy Sarzo (Quiet Riot, Ozzy, Whitesnake) – Bass, Vocals
Rikki Rockett (Poison) – Drums, Vocals
Brandon Gibbs (Cheap Thrill) – Vocals, Guitar
BUY IT !
www.nehrecords.com/product/devil-city-angels-devil-city-angels/
.