BILLY F GIBBONS (ZZ Top) – The Big Bad Blues (2018)
Legendary ZZ Top frontman BILLY F GIBBONS will release his second solo album "The Big Bad Blues", and I pleased to say this is a hot rockin' album. I didn't enjoyed too much Gibbon's 2015's Arfo-Cuban flavored 'Perfectamundo', but "The Big Bad Blues" is pure 'down and dirty' bluesy Rock N' Roll to die for.
Co-produced by Billy and Joe Hardy and recorded at Foam Box Recordings in Houston, the album boasts 11 bluesy-rock tracks consisting of six BFG originals and five cover versions of songs by Muddy Waters, Bo Diddley, Jerome Green and Gilly Stillwater.
With Billy taking on guitar, harmonica and vocal duties, he was flanked by a stellar line-up of musicians including Joe Hardy on bass, Matt Sorum (Guns N' Roses / Velvet Revolver / The Cult) and Nashville session great Greg Morrow on drums, Mike 'The Drifter' Flanigin on keyboards and James Harmon on additional harmonica.
ZZ Top has never strayed far from the blues. Even in their slick, synthesizer-enhanced MTV "Gimme Me All Your Lovin'" days, the band always kept "one foot in the blues," even naming an album that way.
So it's little wonder that Top's iconic frontman Billy F. Gibbons would revert to that straight-ahead Chicago sound when given a chance to follow up his successful 2015 solo debut.
It's only surprising this set of covers and originals didn't happen sooner.
Between his instantly recognizable swamp-drenched guitar and raspy vocals that have always seemed as if he gargled with the grimy mud of the Mississippi delta, Gibbons dives head-first into covers from Bo Diddley and Muddy Waters (two each), and cranks out a bunch of originals with the passion and low-boil intensity that has kept his band relevant for nearly 50 years.
An awful lot of electric blues is really great stuff — and then there's some blues that just blows out the windows and the roof – not so much from the volume but from the soul-deep intensity. That's what you have here.
In addition to high-powered and searing guitar and down and dirty harmonica work from Gibbons, the guitarist offers up his gravely vocals to etch the feeling in stone. Oh, and let me not forget that he tosses in a little of that famous pinch harmonics technique he's so noted for.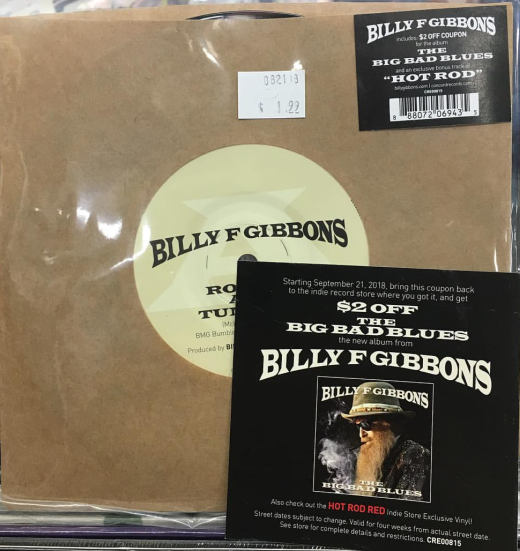 "The Big Bad Blues" is a blues album, but the focus on all songs is Rock.
Even the cover of the delta blues of 'Bring It To Jerome' is transformed here into a heavy-blues, rocking tune with a huge, monster rumbling bass sound from master Joe Hardy.
This stuff is phat, pointed, and packs a huge wallop.
You want this one, believe me.
01 – Missin' Yo' Kissin'
02 – My Baby She Rocks
03 – Second Line
04 – Standing Around Crying
05 – Let The Left Hand Know
06 – Bring It To Jerome
07 – That's What She Said
08 – Mo' Slower Blues
09 – Hollywood 151
10 – Rollin' And Tumblin'
11 – Crackin' Up
Billy Gibbons – vocals, guitar, harmonica
Joe Hardy – bass
Matt Sorum, Greg Morrow – drums
Mike 'The Drifter' Flanigin – keyboards
James Harmon – additional harmonica
PRE ORDER:
www.amazon.de/Big-Bad-Blues-Billy-Gibbons/dp/B07F7VFCLX
.